Other Quantities?
Description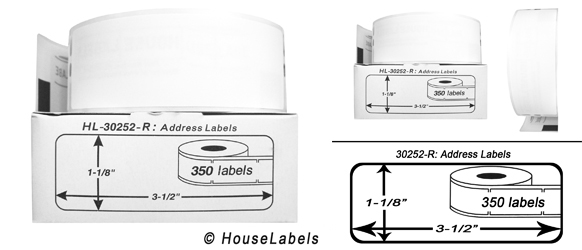 Description
DYMO-Compatible 30252 REMOVABLE Address Labels (1-1/8" x 3-1/2") -- BPA Free! (350 Labels per Roll)
Features
1-1/8" x 3-1/2" | Rectangle | White | Direct Thermal | BPA Free | Removable Adhesive | 350 Labels per Roll
Each roll is individually packed in it's own carton
These labels can be used for address labels, product identification, file folders, barcoding and much more
Labels are smooth and bright white for professional results
Labels are smudge-proof as well as water and oil resistant
Printer Compatibility
Dymo Printers: 300, 310, 315, 320, 330, 400, 400 Duo, 400 Twin Turbo, 450, 450 Duo, 450 Turbo, 450 Twin Turbo, 4XL, EL40, EL60, SE300, SE450. CoStar LabelWriters: XL, XL+, BC, BC+, TURBO, SE200, SE250, ACII 200 / ASCII 250
All of our products are BPA free
BPA (bisphenol A) is an industrial chemical that has been used since the 1960s. Certain thermal paper may contain BPA. The National Toxicology Program at the Department of Health and Human Services says it has "some concern" about the possible health effects of BPA on the brain, behavior and prostate gland of fetuses, infants and children
International Warning
North American LabelWriter printers require a perforation between labels to detect where the next label position is located. Non-North American LabelWriter printers require black bars printed on the backside of the label to detect the position of the next label. If your printer requires the black bars, then our labels will NOT work for you
Trademark Statement
"DYMO®", "LabelWriter®" and all other DYMO-branded product names and SKU trademarks are trademarks of DYMO Corporation. DYMO Corporation does not sponsor or endorse any products made or sold by HouseLabels.
About Us
At HouseLabels, we strive to ensure that our HouseLabels brand products are of the highest quality and that your order arrives on-time and intact. You may return unopened items within 30 days of delivery for either (i) a full refund (excluding shipping and handling charges) or (ii) a replacement product free of charge, if you should encounter any problem with your order, or are unsatisfied for any reason. We'll also pay the return shipping costs if the return is a result of our error. If you elect for a refund, it will be issued to your original form of payment.
HouseLabels brand labels are 100% safe for your DYMO® LabelWriter® and Brother® P-touch® printers
At HouseLabels, we manufacture these high quality labels for the lowest price available anywhere and pass the savings on to you. Our excellent status as an eBay Retailer provides an assurance to all our buyers that we take customer care as our number one priority. HouseLabels ships twice daily, six days per week, to ensure the prompt receipt of your items. Our cut-off for processing is 3:30 p.m. A third delivery is often made prior to the close of the Post Office and/or UPS. Please send us an email if you have any questions or special needs.
Good luck and happy shopping!
Andrew and Marc
Feedback
Positive feedback is automatically returned when your positive feedback is received. Please avoid leaving negative or neutral feedback until your dispute is clarified or deemed irresolvable. Feedback cannot be retracted once it is left.
Label Quality
HouseLabels specializes in producing various kinds of self-adhesive label products. Our main products include printer labels, direct thermal labels (including thermal labels/scales labels for supermarkets, shipping labels, barcode labels, etc.), thermal transfer labels (art paper labels, shipping labels, barcode labels, etc.), all kinds of stickers, security labels, school/office labels, etc.
Label Quality
We start with superior raw materials:
80G/M2 high quality direct thermal paper
Acrylic, permanent (or Removable Adhesive) adhesive, as applicable
White glassine release paper, 60G/M2
Superb whiteness
Water, grease and rub resistant
Labels are produced using the latest technology and undergo numerous quality control checks. Our certifications include ISO 9000/9001/9004/19011: 2000 and others.
HouseLabels meets or exceeds OEM manufacturer specifications. Our labels will not damage your DYMO® print head. We use state of the art glue technologies which conform to our stringent standards.
Our labels are produced in a clean environment and immediately packed first into protective black polybags and then into mini-cartons to protect the rolls from dirt, sunlight and scuffing (something other off-brand eBay sellers do not offer)
Label Care
HouseLabels' rolled labels (those that are DYMO-, BROTHER- and ZEBRA-compatible) use a special "active" coating known as "direct thermal." Direct thermal is a specialty form of ribbonless technology. It utilizes a heat-sensitive coating that, when brought in contact with a thermal printhead, generates a deep black or, in some cases, a color image.
HouseLabels takes great care in how it packages its labels. Each roll is placed in a black polybag and then placed in a sealed mini-carton to protect it from sunlight. Here are some further guidelines for the caring of your labels:
Avoid direct sunlight. Most papers tend to yellow in direct sunlight. Thermal especially so. The printed image also tends to fade when exposed to direct sunlight for extended periods. Thermal paper images also tend to fade when left exposed to conventional fluorescent light for extended periods. To keep the image intact, file as soon as reasonably possible; and
Avoid hot or humid environments for long-term storage. Although thermal can be used in hot and/or humid environments, it is best to store imaged papers at temperatures lower than 80°F and a relative humidity lower than 65%.
For more information, click here.
Payment
Our preferred method of payment is PayPal, the safest and easiest way to pay for goods on eBay.
Shipping
Most items ship either USPS Priority Mail or UPS. We ship up to two times per day, six days per week, to make sure you get your items as quick as possible. If you want to order labels, and are located outside of the United States, please send us an email indicating what items you would like to order together with the shipping address. We will first send you a quote for your review prior to payment. International shipping rates do not include taxes, duties and/or other fees that may be imposed by local governments for which you shall be responsible to pay.
Combined Shipments: Ask questions for combined shipping with our other products *BEFORE* you purchase. Some items or quantities may not qualify for combined shipping. When asking for a shipping quote, please include your zip code (postal code, as applicable).
Returns
We strive to ensure that our HouseLabels brand products are of the highest quality and that your order arrives on-time and intact. If you should encounter any problem with your order, or are unsatisfied for any reason, you may return (at your cost) unopened items within 30 days of delivery for a full refund reduced by the lessor of (i) a 20% restocking fee, and (ii) our actual shipping cost to you (even though it is FREE SHIPPING, we have a cost we must pay to ship to you and that amount is not retrievable). If the return is a result of our error, or faulty product, we will pay for the product to be returned and provide a full refund, inclusive of shipping costs. If you elect for a refund, it will be issued to your original form of payment.
Please follow the following procedures for a refund or replacement product:
Email us and provide a brief description of the problem, including the transaction number.
Our Customer Service department will issue you a Return Authorization (RA) number and send you shipping instructions for the package that you wish to return.
Return the product to the following address:
HouseLabels
2850 North Pulaski, Unit 3
Chicago, IL 60641
Once we receive the package at our facility, we will immediately issue your refund or ship your replacement product.
Exception for International Transactions: Because of the expense of international shipping, any product found to be defective from manufacturer will be dealt with on an individual basis. Return shipping of the defected product may be waived at our discretion. If the product needs to be returned for an exchange, the Buyer is obligated to pay return shipping and handling fees. We do not refund any shipping or handling fees. All items must be returned in their original packaging. We reserve the right to hold your replacement product for combined shipping with your next purchase to avoid shipping costs.