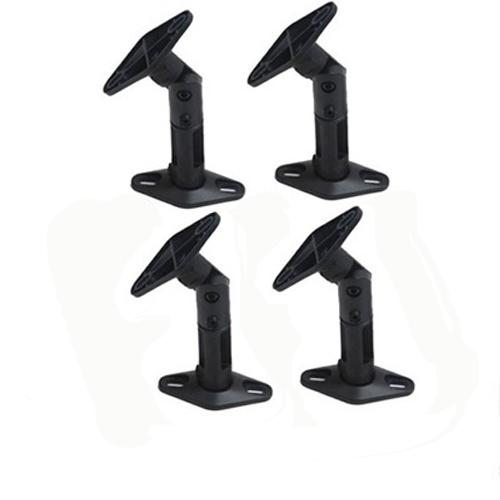 4 Pack Lot - Universal Satellite Speaker Black Wall Mount Brackets fits Bose USA
Super Fast shipping
Overview:
Condition: Brand New
In Stock and Ships within 24 hours
Product Description
Payment
Shipping
Returns
Designed to fit most brands of speakers, this universal speaker mounts are incredibly easy to install. It provides +/- 30 degree tilt, up to 180 degree pan and 360 degree rotation adjustments as well as a unique combination of simplicity and security. These universal speaker mounts are designed for mounting most mini, satellite and bookshelf style speakers weighing less than 10 pounds.Made of durable, weather resistant, injection molded fiber resin reinforced polymer. The speaker can be positioned anywhere in a room to achieve optimal sound quality. These mounts are ideal for office or home theater surround sound applications.
Universal designation fits most brands Designed to fit the following brands of home theater satellite speakers: Bose, Denon, Infinity, Insignia, Kenwood, LG, JVC, Onkyo, Panasonic, Philips, Pioneer, Samsung, Sony, Yamaha, Zenith and most other brands of satellite speakers.General Features
4 Speaker Mounts
Universal design fits most brands
Simple Tilt, Pivot, and Rotation Adjustment
360 Degree Rotate / 180 Degree Tilt
Easy installation
Multi-segment design allows for variable configurations (see attached picture)
Two speaker mount styles. Two hole mount and single bolt style
Instruction manual included
Installation hardware included
Color: Black
Total product length (wall mount applications): 3 5/8"
Total product length (ceiling mount applications): 5 7/8 inch.
Mount hole width (centered) at both ends: 2 3/8" (Min Width 2", Max Width 2 3/4")
Removable Arm Extension (2.25")
Load Capacity: less than 10 pounds
Key Hole Mounting
2/4 Hole Mounting
Single Hole Mounting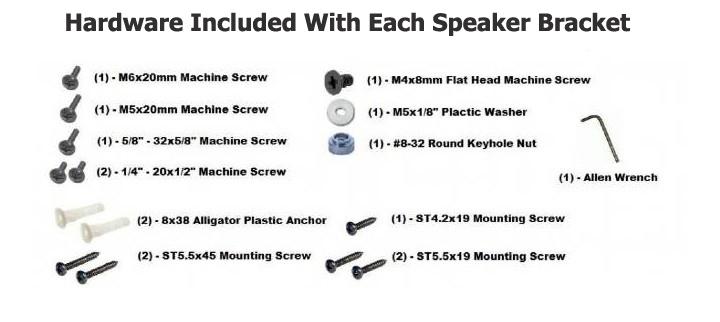 Package Contents
4-Pack Speaker Mounts
Mounting brackets, ceiling extensions, allen wrench, instruction sheet as well as all adapters and hardware necessary to connect your speakers to the brackets and the brackets to the wall or ceiling.