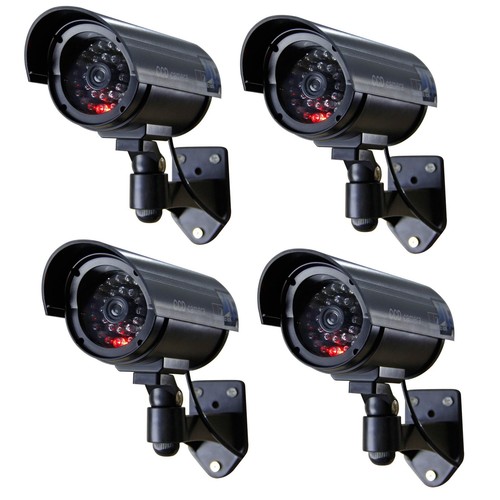 4 × Dummy Fake Camera Bullet Flashing LED Light Indoor / Outdoor Security Black
Super Fast shipping
Overview:
— Free Expedited Shipping✔
— MONEY BACK GUARANTEE✔Distributed by Etekcity
Condition: New
In Stock and Ships within 24 hours
Product Description
Payment
Shipping
Returns
Description

The Etekcity® simulated security cameras have proven to be an excellent crime prevention device.When placed in your home or business, even the most sophisticated criminals will think the premise is guarded by a high-tech surveillance system and go in search of an easier target.
In fact, this is an actual surveillance camera(WIDELY USED IN USA) that has been modified into a "dummy" or fake security camera.
The camera features authentic video cable and a fully adjustable mounting bracket that will let you install the camera quickly and easily using the included stainless steel screws.
Specifications
.Contains a FLASHING LIGHT
.
Easy INSTALLATION
.Can be used
indoors or outdoors.
.Power supply: 2 x AA batteries
.Dimensions: 5 1/2 x 3 x 2 1/2 inches
.Item weight: 250g
.Color: BLACK

Package Includes
4 x Etekcity® Fake Dummy Security Camera Black
4 x CCTV placard
8 x AA batteries
12 x Screws
Mounting Instructions
1. Slide camera top towards the back of the camera until the piece with writing disengages from the camera. Remove camera top completely to reveal battery compartment on top of camera.
2. Open battery lid and insert 2 AA batteries. Make sure LED begins to flash on camera unit before you replace the lid. Replace battery lid and slide camera lid back into the camera groves to conceal the battery compartment.
3. Use camera housing base as a template for easy mounting. Position bracket in desired location.Use a pencil or pen to mark the 3 outer holes of the bracket base on the wall, drill holes where marks were made on the wall, and insert wall anchors into pre-drilled holes.
4. Before camera is attached to the wall insert about an inch of black tubing from the back of the camera into the large hole on the mounting bracket to simulate that the dummy camera is a real wired camera.
5. Position your new simulated camera unit onto your previously drilled holes and wall anchors and insert screws and tighten securely.
6. Adjust camera angle and direction to suite needs by rotating and pivoting camera until desired angle is acquired.Tighten camera on the bracket and enjoy.