Motorcar Investments
---
5641 Hillsborough Street
Raleigh, North Carolina
919-851-4044
---
This is an Authentic Gran Sport Stage 1 car produced by Buick in very low numbers in 1970. The documentation is pictured here and will go with the car of course. The rare Stage 1 option consisted of a 455ci V8 with more aggressive camshaft, higher compression, unique cylinder heads with larger valves, a specially tuned 4 barrel Quadrajet carburetor, more aggressive ignition timing, 5/8 inch oil pickup tube and a higher numerical final drive, dual exhaust, performance axle with positive traction and more. This stage 1 was optioned with the firmer shifting Turbohydromatic 400. It was conservatively rated at 360 hp/510 lb/ft torque. All the options are listed on the documentation from the Buick GS Historical Society and shown below in photo presentation. The car is in pristine condition inside and out having gone through a full mechanical and cosmetic body off restoration. This is a numbers matching engine car with the "SS" production code stamped on the engine block proving it is an authentic Stage 1 car. It is highly collectible, and rarely found for sale. This beast runs and drives as good as it looks and will give you an unbelievable thrill when you step down on the accelerator!! Take this opportunity to own and drive a very special car that will continue to appreciate in value.
Four separate photos were joined together to show you this complete view of the undercarriage.
We have Classic Car financing available for qualified buyers! Financing options at very competitive rates for up to 10 years!
Please inquire for more details!
Continue scrolling down the page to see all of the photos of this show worthy Stage 1
& please note that any discoloration that you may think you see was from relections of the yellow lift arms and the bright halogen lamp underneath to illuminate the underside.

This documentation from Wayne Roberts of The GS Historic Society verifies that is an AUTHENTIC
Buick GS Stage 1
The original color is Burnished Saddle, but when it was restored, it was finshed in a more popular Regal Black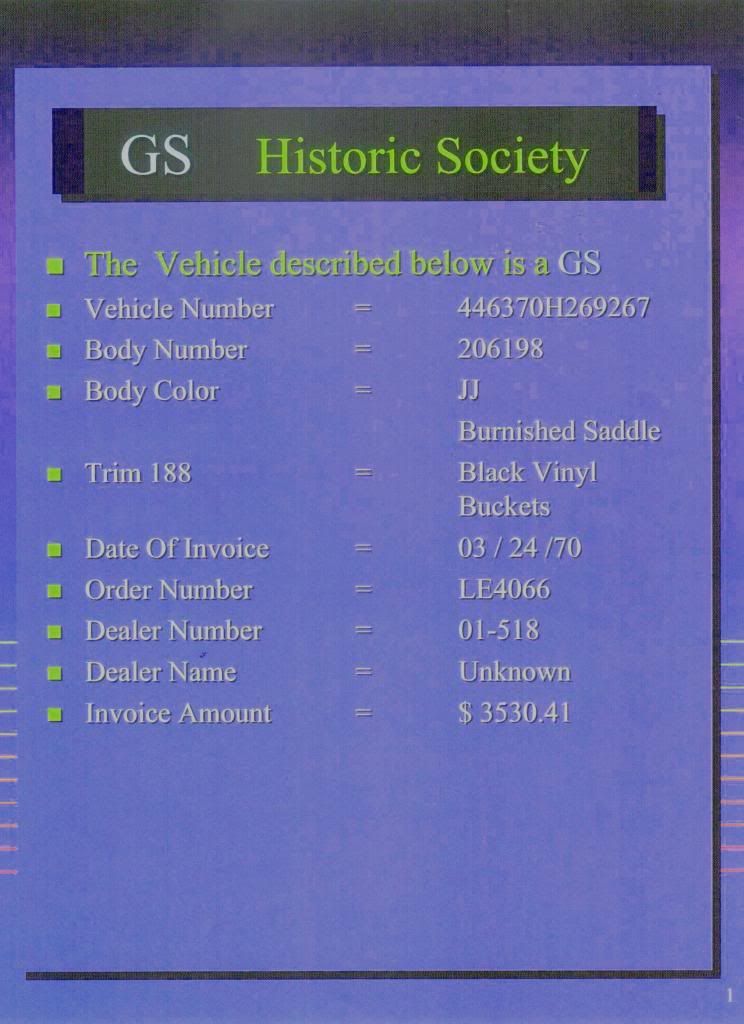 Watch the video on this GS below and then Click here to visit Motorcar Investments!
Click here to email us directly!