TD>
GIL SCOTT-HERON
The Revolution Will Not Be Televised

THIS IS A SIGNED, ORIGINAL PAINTING FROM MY PORTFOLIO, ARTIST JOHN FROEHLICH.

THIS ARTWORK CAN ALSO BE PURCHASED AS AN 18x24" GICLEE PRINT. EMAIL ME FOR DETAILS.
MY ARTWORK HAS BEEN COLLECTED INTERNATIONALLY AND SHOWN IN GALLERIES WORLDWIDE!
READY TO FRAME ACRYLIC PAINTING.

PAINTING MEASURES 22X30" EXECUTED ON HEAVY ARCHIVAL PAPER.
PROFESSIONALLY PACKED & SHIPPED IN A STURDY MAILING TUBE.
$20 PRIORITY MAIL SHIPPING, HANDLING & INSURANCE CHARGES TO BE PAID BY BUYER.
OUTSIDE U.S., PLEASE USE SHIPPING CALCULATOR OR CONTACT ME FOR THE SHIPPING COST.
INTERNATIONAL BUYERS, PLEASE UNDERSTAND THIS.... WE ARE "NOT" RESPONSBLE
FOR DELAYS IN SHIPPING, BY THE U.S. POST OFFICE OR A FOREIGN POST OFFICE. WE DO
SHIP QUICKLY, BUT REMEMBER YOUR PACKAGE CAN TAKE TIME TO PASS THROUGH CUSTOMS!!!

YOUR COUNTRY'S IMPORT DUTIES, TAXES & CUSTOMS CHARGES ARE NOT INCLUDED IN THE
ITEM PRICE OR THE SHIPPING CHARGES. THESE CUSTOMS FEES ARE THE RESPONSIBILITY OF
THE BUYER. PLEASE CHECK WITH YOUR CUSTOMS OFFICE TO DETERMINE THESE COSTS BEFORE
B'DDING/BUYING!
PAYPAL OR CREDIT CARDS GLADLY ACCEPTED.

FROM THE TIME OF INVOICING, BUYER HAS 3 DAYS TO CONTACT SELLER & PAY FOR AUCTION.
PLEASE DO NOT B'D ON ART, IF YOU CAN'T FOLLOW THRU WITH AGREEMENT.
SORRY THERE ARE NO RETURNS, ART IS AS PICTURED AND STATED.
CUSTOM ORIGINAL PORTRAITS, OF ANY FAMOUS MUSICIAN, OR YOUR FAMOUS SELF ARE
AVAILABLE......PRICE LIST AVAILABLE UPON REQUEST!

ATTN: MUSICIANS, WRITERS & FILM MAKERS..... BOOK, DVD & CD COVER ART COMMISSIONS
GLADLY ACCEPTED!
FOR ADDED SAVINGS ON SHIPPING, WHY NOT COMBINE THIS ITEM WITH OTHER
PURCHASES!......Click here to view my other Ebay listings!
I HAVE OVER 900 PAINTINGS IN MY PORTFOLIO!
IF YOU HAVE A *SPECIAL* REQUEST, JUST E-MAIL ME OR CALL MY STUDIO FROM
9am-9pm EST @ 732-759-8737.
THIS PAINTING MUST BE SEEN IN PERSON...YOU WILL BE AMAZED AT THE
VIBRANCY OF THE COLORS, WHICH DO NOT PROPERLY TRANSMIT ON A
COMPUTER SCREEN.
THIS ORIGINAL PAINTING WILL BECOME A CONVERSATION PIECE IN YOUR HOME
OR OFFICE!
AND REMEMBER ART ALWAYS MAKES A GREAT GIFT!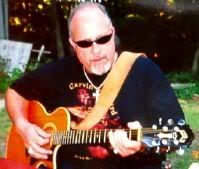 Hello, my name is John Froehlich, a professional FULL- TIME artist. My work has
been shown & collected internationally.
A Jersey shore resident now, I was born and raised in Manhattan, where for many
years, I had seen and drawn many of the Jazz & Blues greats, up close & personal,
at such venues as the Village Vanguard, the Blue Note and Birdland.
At an early age, it was my grandfather who influenced my life-long love of jazz
standards, blues and boogie woogie. He played guitar for the Dorsey Brothers, the
Paul Whiteman Orchestra, and on Broadway. Grandpa was instrumental in fueling the
passion in my art.
With over 1,100 JAZZ, BLUES & ROCK PAINTINGS in my portfolio, I have produced
art work for CDs, music publications, posters & t-shirts. Numerous commissions have
been gladly accepted, for restaurants, homes and offices, worldwide.
Recent CD/DVD covers include:
Gene Ludwig "Love Notes of Cole Porter"
The Tal Farlow DVD
The Commons "American Ghost" CD (Trenton, NJ),
The Brown Street Jazz Band "Live at Evergreen" CD (Harper's Ferry, W.Va.)
and Tommy Mac's "Do Ya Wanna Dance" CD (Toronto).
The most recent music festivals that have commissioned my artwork are:
The 2008 Melbourne Australia Jazz festival,
The 2007 Red Bank (NJ) Jazz and Blues Festival,
The 2006 Grafton Blues Festival, Wisconsin,
and The 2005 Hot Summer Jazz Festival, Minneapolis.
I HOPE YOU ENJOY MY ART, AS MUCH AS I ENJOY CREATING IT!
I TAKE EVERY HIT ON MY LISTING AS A COMPLIMENT, SO...
THANKS AND GOOD LUCK B'DDING!
JOHN FROEHLICH
FRO-ART
AND
732-759-8737


Powered by eBay Turbo Lister
The free listing tool. List your items fast and easy and manage your active items.


Powered by eBay Turbo Lister
The free listing tool. List your items fast and easy and manage your active items.