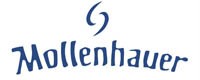 Mollenhauer 4407 Kynseker Keyless Tenor Recorder in c' - maple
Renaissance-/Earlybaroque Ensemble from Garklein to Great bass
Versatile instruments after Hieronymus F. Kynseker (Nuremberg, 1636–1686) based on the original instruments kept at the Germanic National Museum in Nuremberg. Our Kynseker ensemble instruments remain faithful to the most important characteristics of the originals: its outer form and its strong sound, so full of personality.
A superb consort instrument: tuning and sound have been carefully matched. The fingerings are similar to those of the familiar Baroque fingering patterns.
a' = 442 Hz
Purchased parts package:

•Instrument
•Case
•Wool mop
•Joint grease
•Fingering chart
•Maintenance instructions
Kynseker tenor c', maple, without key. A full renaissance sound with much character and depth, baroque fingering, and a range of two octaves. Suitable for renaissance or early baroque consort music as well as solo music from early and modern periods.
The production of a complete consort of recorders after the design by Hieronymus F. Kynseker (1636-1686), in the German National Museum in Nuremberg, is perhaps one of Mollenhauer's finest achievements. Faithful to the originals, the instruments have a narrow arched windway, a strong sound that is particularly noteworthy in the lower register and a full two octave range using fingering similar to the baroque system.

For customers without a PayPal account, we accept credit and debit card payments via Nochex, using a 128 bit SSL encrypted secure transaction provided by VeriSign so you can buy with confidence. If you would like to use this payment method, PLEASE CLICK THE NOCHEX LOGO LINK BELOW LEFT after purchasing the item.


Items are sent directly from the manufacturer or one of our suppliers, please allow 7 days for delivery.


If you are not happy with any item bought from Cantabile Music, please contact us within 14 days of receipt so that we can arrange for an exchange or refund. Thank you.

Cantabile Music Shop offer big brand name instruments and accessories for every type of instrument, for beginners to professional musicians.
VAT number: 994 9923 39

We are always willing to help and if you need any advice please feel free to email cantabilemusicshop@gmail.com or phone +44 (0)1202 255999