Rack Mount DJ 19" Rack Case Equipment Deep Drawer 2U 2 Space Locking Lockable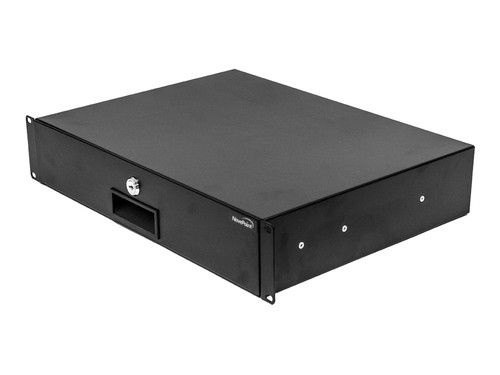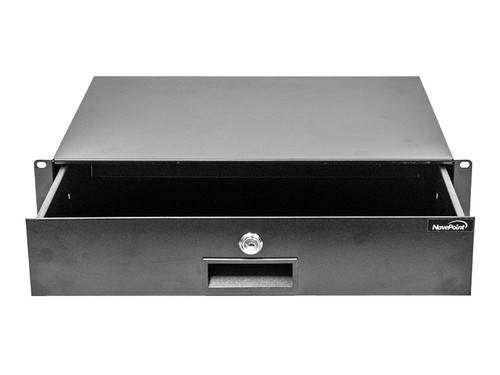 This Rack Mount Drawer mounts easily into any standard 19 inch rack or cabinet. It is perfect for storing anything from software, tools, paper, supplies, cable management or patch cables. The fully enclosed construction and locking features allow for secure storage, convenience and peace of mind. Available in a variety of sizes.
Designed to mount to any standard 19-Inch rack (rack screws included)
19" x 14" x 2U (14 inch depth)
Color: Black with powder coat finish
Material: Heavy duty steel.
Inset handle
Comes with lock and includes two keys
Installation position: level fixed on the mounting rail or cabinet.
Contact NavePoint
---
If you have any questions you may reach us via our eBay Contact Form.
Or you may call toll-free (888) 505-1363 to reach our U.S.-based customer service agents.
Checkout & Payments
---
NavePoint accepts payments from Visa, MasterCard, American Express, Discover, and PayPal.
All orders delivered to Illinois(IL) are charged the applicable sales tax.
Shipping
---
This product features FREE SHIPPING via FedEx Ground or USPS.
Please Note: Since FedEx Ground is not available to Alaska, Hawaii, Puerto Rico, or APO/FPO, shipping to these areas will be handled using USPS Priority. Shipping to these addresses can take up to 4 weeks and may require additional shipping charges.
ORDERS PLACED BY 3PM EST WILL SHIP SAME DAY. All orders after 3pm EST will ship next business day (Monday - Friday) after payment is received. We will email your tracking number when your order ships.
All orders ship direct from our Illinois warehouse near Chicago.
Sorry, no local pickups available.
Please see the 'Shipping and payments' eBay tab above for details on countries outside of the U.S. which we ship to.
Customer Satisfaction
---
Your satisfaction is guaranteed. NavePoint stands for value, selection and quality. If you are not satisfied with your purchase please contact us and we'll make it right!
Our goal is to provide a 5-star experience with our detailed descriptions, clear communications, fast shipping times and NO shipping charges.
We give all our paying customers positive eBay feedback. Please work with us if you have a problem before leaving negative feedback.
Returns and Exchanges
---
We offer a 30-day money back or exchange policy. If your order has a problem, please contact us, and be sure to include your order number, the eBay listing number and a description of the problem. Navepoint will exchange or refund your purchase within 30 days of the sale date, except as noted below:
If you receive an item other than the item you purchased, we will pay return shipping and send you the correct item within 1 business day of receipt of returned shipping notification
If you receive the correct item, and it is unopened but you no longer want it, you may return it for a full refund. You will be responsible for return shipping charges
If you receive the correct item, and you have opened it but not yet installed it, a 15% restocking fee may be charged for the return
If you receive the correct item, and it is defective, we will pay return shipping and send you the correct item within 1 business day of receipt of returned shipping notification
About NavePoint
---
NavePoint has been selling top quality cables and rack mounted equipment at discount prices since our inception in 2008. Our mission is to provide our customers with the best quality products available at the lowest possible prices.
Centrally located in the Chicago area, NavePoint has quickly evolved from a small in-home business to a powerhouse in the e-commerce space. All of our products are in stock and ready to ship and our inventory management and warehouse systems are state of the art; therefore, allowing us to ensure that all orders placed are shipped by the next business day.
Please contact our Customer Service department to let us know if there is anything we can do for you. We are committed to your satisfaction!
People love us on eBay. We have more than 5,000 positive feedback, and more every day.
Please contact us with any questions about our business or products.
NavePoint is American-owned and operated.