VGA Stereo Audio to HDMI Converter box converter PC VGA/Audio to HDMI 1080P USA
Super Fast shipping
Overview:
— Free Expedited Shipping✔
— MONEY BACK GUARANTEE✔Distributed by Etekcity
Condition: Used
In Stock and Ships within 24 hours
Product Description
Payment
Shipping
Returns
This kind of the Converter is a VGA video converter. It converts VGA input into HDMI to allow PC users to show their image not only on the PC monitor, but could also on TV, to have a large display. The conversion is along with the audio.
Features
* VGA to HDMI Converter box converts PC VGA and audio to HDMI, allowing connection of PC to 1080p HDTV.
* Input: VGA & Stereo Audio
* Output: HDMI,
* PC VGA Resolution: 1920 X 1080@60Hz, 1360 X 768@60Hz, 1280 X1024 @60Hz, 1024 X 768 @60Hz, 1280 X 720 @60Hz, 1280 X 768 @60Hz, 800 X 600 @60Hz, 640 X 480 @60Hz, 720 X 400 @85Hz.
* HDMI Transmission Rate: 5Gbps
* Support 165MHz/1.65Gbps per channel (4.95Gbps all channel) bandwidth.
* Support 8bit per channel (24bit all channel) deep color.
* Support uncompressed 2 channel audio such as LPCM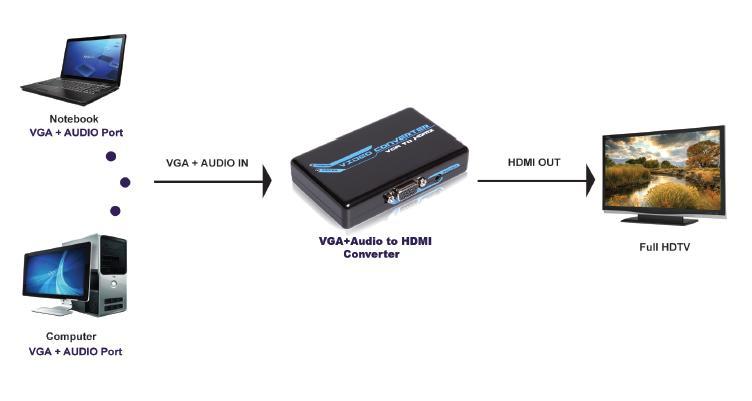 Specifications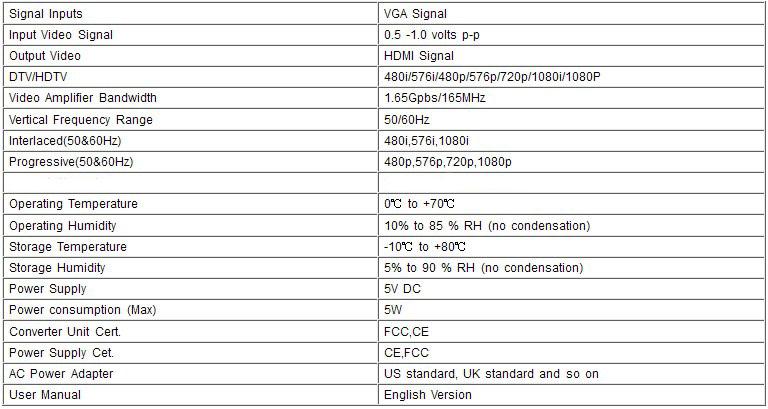 Package Contents

1x VGA to HDMI Converter
1x AC Adapter
1x User Manual