Introduction of the Air Jordan 11 Marks the Return of MJ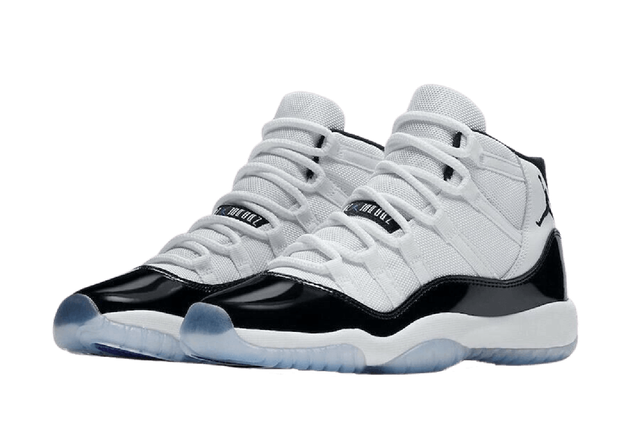 The AJ 11 is arguably one of the most popular and beloved Air Jordan styles of all time. This hugely successful Tinker Hatfield-designed model represents Michael Jordan's return to the NBA in 1996 and was worn by MJ during the record-breaking 72-10 season when the Chicago Bulls won their fourth NBA title. It's also notable for being the first Air Jordan to feature Cordura nylon, a carbon fiber plate and foot-conforming patent leather.
The on-court debut of the Air Jordan XI Concord set off a frenzy of anticipation until the sneaker hit retailers later that year. Other colorways and silhouettes soon followed.
In 2000, Air Jordan 11 Retro releases kicked off—and the collection is still going strong with new iterations introduced almost every year. The Air Jordan 11 lineup—OG or Retro, mid or low, "Concord," "Bred" or "Space Jam"—is sought after by sneakerheads everywhere.
History of the Air Jordan XI

In 1995, Michael Jordan announced his departure from baseball and return to the NBA with two simple words: "I'm back." Reunited with the Chicago Bulls midseason, MJ stepped onto the court during Game 1 of the Eastern Conference semifinals wearing a distinct pair of new Air Jordan Xs. In contrast to his teammates' black shoes, Jordan's sneakers (prototypes emblazoned with 45 to match his new jersey number) were predominantly white. The shiny patent leather with a show-stopping Concord Purple overlay violated uniform rules, and he was fined $5,000. That created a cultural moment and set the stage for the launch of the Air Jordan 11 Concord, which landed in stores that November and featured MJ's reinstated number 23.

1996 saw the release of four more Air Jordan 11 variations:

The Blue/White Air Jordan 11 Columbia that Jordan wore during the 1996 All-Star Game.
The Black/Red ("Bred") Air Jordan 11 that MJ sported during the 1996 NBA Finals when the Chicago Bulls clinched their fourth championship.
The Grey/Cobalt and Black/Red colorways of the Air Jordan XI Low IE, a low-cut style that traded the signature patent leather mudguard for a lightweight, breathable mesh.
The Black Jordan 11s that MJ wore in the animated movie, Space Jam. One of the most famous colorways of 1996, it wasn't even available for sale.

In 2000, the Jordan Brand launched the Air Jordan 11 Retro series, starting with the Air Jordan 11 Retro Concord edition in honor of the style's first colorway. The Air Jordan 11 Retro Space Jam quickly followed.

Jordan 11 Retro styles have seen incredible success. In 2008, the tradition of an Air Jordan 11 Holiday release began and continues to this day.
Jordan 11: A Cultural Influence Then and Now
It's hard to overstate the impact the Jordan 11 sneakers have had on popular culture. The OG Concord was the must-have shoe of its era, coveted by celebrities and Jordan fans alike. Due to its dressier appeal, the shoe was frequently paired with formal attire and could often be spotted at red carpet events. While standout style is common today, this was a bold style statement at the time.
The popularity of the Air Jordan XI hasn't diminished in current sneaker culture and celebrity circles. Some of the biggest names in sports, music, film, television and fashion have all stepped out wearing a pair of Air Jordan 11 kicks—including Will Smith, Dwyane Wade, Jay-Z and Tom Cruise.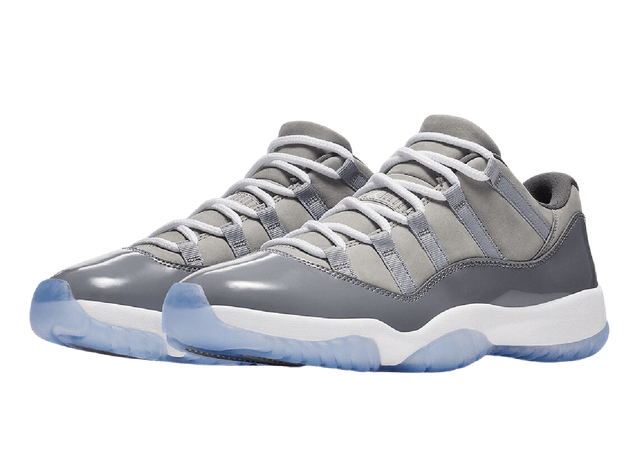 Timeline of Air Jordan 11 Releases
Michael Jordan wears Air Jordan 11
Concord prototype with No. 45



Air Jordan 11 Concord released
to the public



Air Jordan 11 Columbia and Playoff/Bred; Low IE True Red and Cobalt
Air Jordan 11 Retro Concord and
Space Jam



Air Jordan 11 Retro Columbia, Cool Grey
and Playoff/Bred; Retro Low in several colorways



Air Jordan 11 Retro Low IE Playoff/Bred
and Cobalt



Air Jordan Defining Moments Pack (DMP) including AJ11 Retro Concord
Air Jordan Countdown Pack (CDP)
including AJ11 Retro Playoff/Bred



Air Jordan 11 Retro Space Jam Holiday Release
Air Jordan 11 Retro Silver Anniversary;
Cool Grey Holiday Release



Air Jordan 11 Retro Concord Holiday Release
Air Jordan 11 Retro Playoff/Bred Holiday Release
Air Jordan 11 Retro Gamma Blue Holiday Release
Air Jordan 11 Retro Low Concord;
Retro Legend Blue Holiday Release



Air Jordan 11 Retro Low Playoff/Bred;
Retro 72-10 Holiday Release



Air Jordan 11 Retro Premium Grey Suede; Space Jam Holiday Release
Air Jordan 11 Retro Win Like 82 and
Win Like 96 Holiday Release



Air Jordan 11 Retro Concord Holiday Release
Air Jordan 11 Retro Low IE Space Jam;
Retro Playoff/Bred Holiday Release



Air Jordan 11 Design: Construction and Colorways

The Jordan 11 OG was one of the most technologically advanced sneakers of its time. However, it also represented a design shift from a strictly athletic Jordan sneaker to one that could also serve as a fashionable dress shoe. The AJ 11 was the first Air Jordan to feature patent leather, which added a dressier look and provided superb foot support on the court due to its lightweight and flexible performance. It was also the first to include a full-length carbon fiber shank that provides incredibly strong support without added weight.

Additional design characteristics of the Air Jordan XI:

Patent leather mudguard

Tear-resistant Cordura ballistic nylon

Speed-lacing system with nylon webbing loops

Translucent "icy" rubber outsoles

Mid-top or low-top options

Popular Air Jordan 11 Colorways:

Concord: White/Black
Playoffs Bred: Black/Red/White
Space Jam: Black/White
Columbia: White/Blue
Defining Moments Pack (DMP): Similar to Concord but with gold details
Countdown Pack (CDP): Collezione 11/12
Price, Value and Collectability of the Air Jordan XI

Jordan 11s almost always garner more than their retail price due to their popularity and collectability. Air Jordan 11 OGs and earlier versions of Air Jordan Retros originally retailed for $125, while Lows sold for slightly less. From 2009 on, new Jordan 11s typically retailed for $175, with Lows coming in at about $30 to $50 cheaper. Then there are the special two-pair packs like the DMP or CDP, which run closer to $300 each.

It's not uncommon to see the average resale value of certain Air Jordan 11 styles priced at two, three or even four times their retail price. And this can skyrocket to four figures for highly coveted colorways. Of course, there's a significant price difference between new Jordan 11s (sometimes referred to as deadstock) and used Jordan 11s sold on the secondary market.

Two notably rare and expensive Air Jordan 11 sneakers are never-released, special-edition samples valued in the five-figure range:

Air Jordan 11 Retro Silver Anniversary with Jumpman logo – only 25 pairs made
Air Jordan 11 Retro Premium Derek Jeter – only 5 pairs made, awarded to scratch-ticket winners
Jordans Release Dates, News and Articles
Attention all sneakerheads and basketball fans! Read all about the oldest and latest Jordan releases on the eBay Sneaker Hub. From iconic retro styles to new collaborations, you'll find everything you need to know to complete your Jordan collection.
Jordan 11 Sneakers FAQ

What are the prominent colorways and materials used in the Jordan 11?

The Jordan 11 is renowned for its patent leather shine on its mudguard, often combined with mesh or nylon uppers, giving it a distinctive and luxurious look. Some of the most iconic colorways include the Jordan 11 Concord, featuring a white upper with black patent leather and a translucent outsole, and the Bred, which has a black upper with the signature red outsole.

What sneaker technologies are integrated in the Jordan 11 design?

One of the most notable features of the Jordan 11 is its carbon fiber spring plate located in the sole, which provides added responsiveness during play. Additionally, the shoe incorporates full-length Air sole cushioning for comfort and shock absorption.

What were some key Jordan 11 release dates?

The Jordan 11 was originally released in 1995. Michael Jordan famously wore them during the 1995-96 NBA season, a pivotal period in his career. Over the years, the sneaker has been retro-released numerous times with some colorways having limited releases.

What inspired the design of the Jordan 11?

Designed by Tinker Hatfield, the Jordan 11 was inspired by a challenge to create a basketball sneaker that could be worn with a suit. This led to the integration of the shiny patent leather, which gave it a dressier appearance compared to other basketball shoes. The sneaker's design is also a reflection of Michael Jordan's personality and style.

How has the Jordan 11 impacted sports and sneaker culture?

The Jordan 11 holds a special place in both basketball and sneaker culture. Not only was it worn by Michael Jordan during one of his most memorable seasons, but he also sported it in the classic 1996 film Space Jam. Jordan 11s have transitioned from the court to the streets, becoming a fashion statement.
Content provided for informational purposes only. eBay is not affiliated with or endorsed by Nike.