AJ 15: Introducing
the First "Non-Active" Air Jordan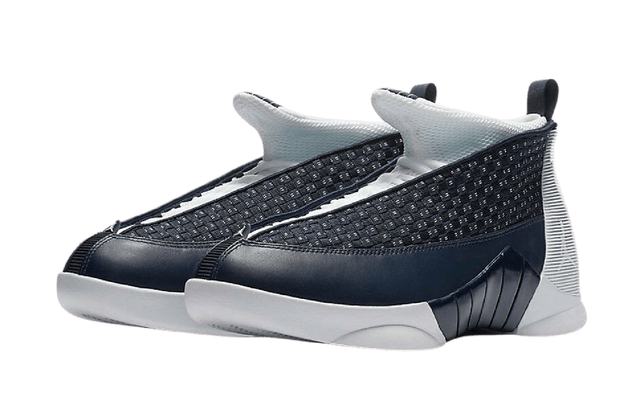 In 1998, Michael Jordan led the Chicago Bulls to a triumphant championship win over the Utah Jazz, completing his second three-peat. It was a storybook ending to Jordan's illustrious career as a player.
With Jordan bowing out of basketball, many thought the Air Jordan would walk off into the sunset with His Airness, but the brand was entering a new phase. Earlier that year, the Air Jordan line became an independent subsidiary of Nike, and the Jordan Brand was founded with Michael Jordan as its CEO. Although MJ traded in his jersey and shorts for a suit, there were more sneakers to come from the brand. One year later, the Air Jordan 15 launched as the first sneaker Jordan didn't wear as an athlete—baseball included.
The AJ 15—A Fast and High-Flying Design?

The Air Jordan 15 was inspired by the X-15 jet, a rocket-powered aircraft capable of reaching hypersonic speeds and altitudes nearing outer space. Using the streamlined look of the X-15, the Air Jordan 15 had a sleek and pointed toe box. Other design elements included a hidden lace system, a combination of woven Kevlar and leather on the upper, and a large protruding tongue created to mimic Jordan's signature tongue-out face that was visible when he took flight.

With a theme that perfectly matched Jordan's style on the court and Tinker Hatfield behind the design, you'd think the Air Jordan 15 would be nothing less than a slam dunk—but it didn't turn out that way. Hatfield had designed every Air Jordan released since 1988 and, after 11 years, some questioned his continued inspiration.

The resulting sneaker was clunky and had a stiff, hard bottom that clicked on floors like a pair of dress shoes. And though they ran true to size, the bootie construction made them difficult to put on.
Original Colorways of the Air Jordan 15
In line with the X-15 jet theme, the first Air Jordan 15 released in 1999 was a mainly black shoe that became known as the "Stealth" colorway.
With MJ away from the court, the Jordan Brand had room to experiment with colorways. In 2000, the brand followed up with a "Columbia Blue" colorway, a "Flint Grey" colorway and an "Obsidian Blue" colorway.
That same year, several low-top 15s got added to the mix that were easier to put on, but equally quirky looking.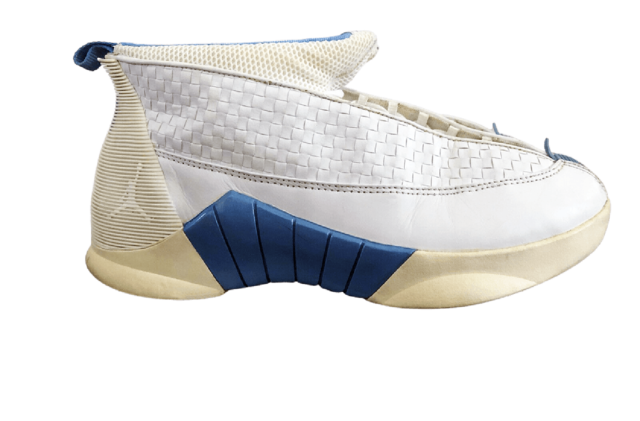 Return of the Air Jordan 15: A Timeline of Releases
The Jordan Brand

re-released

"Stealth" 15s as a Flight Club exclusive and introduced a "Laser" lifestyle colorway.
Considering the brand has gone much longer without re-releasing fan favorites, these drops seemed to be coming too soon.
The Jordan Brand released a new
Black/Red 15 alongside the Air Jordan 8
as part of a Countdown Pack Collection.
Tinker Hatfield took another stab at redesigning the Air Jordan 15 on a special release for the animated film, Kubo and the Two Strings. He ditched the protruding tongue and replaced it with a cleaner
zip-up construction. The sneaker never got a typical release, but fans were given the opportunity to win them.
The Air Jordan 15 released in a handful of colorways. The first was a retro release of the "Obsidian" colorway, which sat on shelves, went on sale and even hit outlet stores. The most interesting take on the Air Jordan 15 from 2017, and arguably the best of all time, came from New York's Public School design firm and debuted during
New York Fashion Week. The brand's founders, Dao-Yi Chow and Maxwell Osborne, chose the shoe as their canvas over a beloved style like the Air

Jordan I

or

Air Jordan XI

in an effort to elevate the XV. The collection included an olive green sneaker with a fully woven upper and exposed laces, a black suede sneaker and a women's knee-high boot
The Doernbecher Freestyle Collection used the 15 as its standout Air Jordan model. Designed in collaboration with 11-year-old OSHU Doernbecher Children's Hospital patient Donovon Dinneen, the shoe featured a suede upper with a dragon scale-embossed print and metallic gold accents on the midsole.
How to Clean Your Air Jordan 15s
The Air Jordan 15s are easy to keep clean, especially if you go for mostly black colorways like the "Stealth" or "CDP" pairs. The clunky soles and leather panels wrapping around the shoe make them great for wearing in the rain or trouncing through a bit of mud.
When it's time to clean them, you can quickly bring them back to life with your preferred shoe cleaning kit or a little soap and water.
Air Jordan 15 Collectability: A Flop for Most

For some purist collectors, the Air Jordan 14 is the definitive cut-off point for Air Jordans worthy of collecting because it was the last shoe Michael Jordan played in—and the shoe he hit the iconic "Last Shot" in to secure his sixth ring. But players like Ray Allen and Reggie Miller sported the AJ 15 on the court, giving it allure even in the post-Jordan NBA years.

Though some collectors dislike the appearance of the AJ 15, any design following the Air Jordan 14 had big shoes to fill. Whether it's an original colorway, a retro or a collaboration, some Air Jordan 15s skew slightly above retail prices, but most 15s can be found at or below retail. If you're looking to grab a piece of Michael Jordan history, you might be able to snag a pair of AJ 15s for less than other models, and it could be worth a lot more one day.
Jordans Release Dates, News and Articles
Attention all sneakerheads and basketball fans! Read all about the oldest and latest Jordan releases on the eBay Sneaker Hub. From iconic retro styles to new collaborations, you'll find everything you need to know to complete your Jordan collection.