Introducing the Air Jordan 18: MJ's Last Dance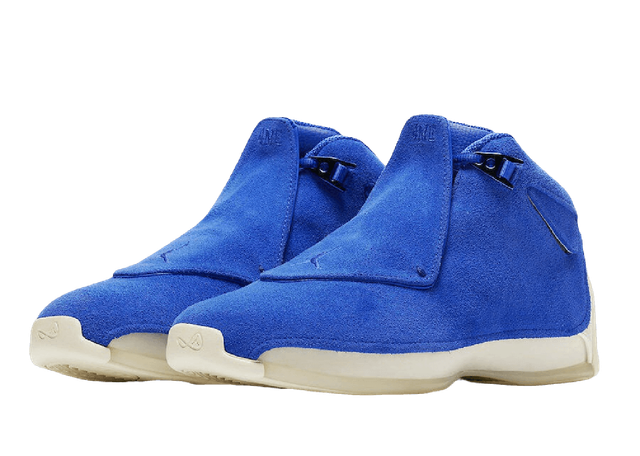 The Air Jordan 18 holds special significance to sneakerheads because it symbolizes Michael Jordan's final moments as an NBA player. When MJ joined the Washington Wizards as a player, he signed a two-year contract. By the 2002-2003 season, Jordan's contract was nearing its end, and nothing indicated he would sign on for another season. A third retirement appeared to be imminent.
Along with the launch of the Air Jordan XVIII came a series of print ads and commercials that asked the memorable question, "What is Love?" to which Michael Jordan replies, "Love is playing every game like it's your last." Jordan was making his final bow, which meant the Air Jordan 18 would be the last sneaker he wore on the court as a professional basketball player.
AJ 18's Formula for Success: Sleek Motorsport Design

Designed by Tate Kuerbis, the Air Jordan 18, like past models, drew inspiration from sports cars. But rather than looking to Jordan's personal car collection like the Porsche 911 Turbo S (Air Jordan 6) or the Ferrari 550 Maranello (Air Jordan 14), Kuerbis pulled elements from Formula 1 race cars and elegant Italian dress shoes to create his vision.

The motorsport theme is evident throughout the silhouette:

Ventilated flaps on the medial and lateral sides of the shoes look like aerodynamic wind splitters and wire mesh air ducts
Long carbon fiber panels running along the midsoles resemble a racecar's lightweight body
Wide outsoles extending up the back of the shoes mimic a racecar's meaty tires

Elements of Italian dress shoes also play into the Jordan 18:

Premium suede and leather materials
Smooth, seemingly laceless uppers
Stitched-on sole panels are more like a high-end dress shoe's than a sneaker's, which is typically cemented or glued
Premium Performance with a Pared-Down Price Tag

Replicating many of the same performance elements from the Air Jordan 17, the AJ 18 also anatomically matches the shape of a foot and provides advanced support and lockdown. The shoes feature a quick lace system, a built-in lace shroud, a large carbon fiber midfoot shank for stability and carbon fiber on the bottom of the insoles.

Despite its high level of performance, the Air Jordan 18 retailed at a relatively modest $175. The Air Jordan 17's retail price was $200, due to its special briefcase/CD packaging. The AJ XVIII also features cool, but more cost-effective, packaging that includes:

Slide-out box with matching towel
"Air Jordan 18 Driver's Manual" featuring an image of a gated manual transmission shifter, information on the design, performance specifications and care instructions
The Black/Sport Royal 18s also include a soft-bristle brush to maintain the suede uppers
Original Air Jordan 18 Colorways
In February 2003, the Air Jordan 18 released the Black/Sport Royal colorway, which incorporated luxurious suede on the upper. White/Sport Royal and White/Varsity Red colorways with premium leather uppers followed.
The Jordan Brand also released two low-top versions and two AJ 18.5s, which shed the built-in lace shroud.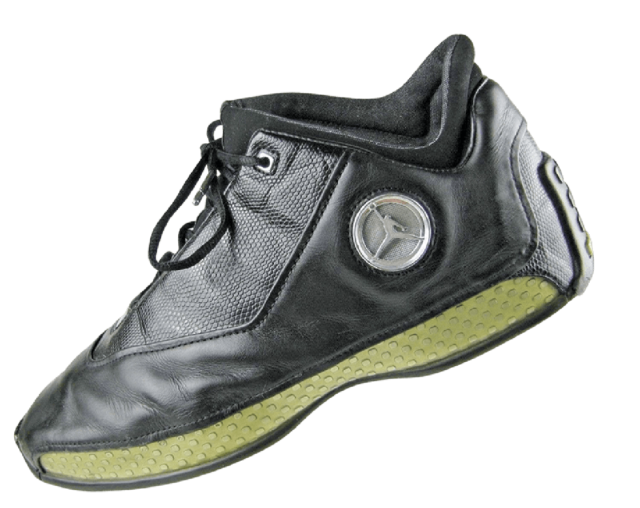 Retro Air Jordan 18 Releases: The Return of Modern Classics

In the grand scheme of Air Jordan silhouettes, the Air Jordan 18 is still relatively young, so there haven't been many retro releases. Other than the 2008 versions of the black and red CDP 18s and the Fire Red 5s, the AJ 18 has seen limited rereleases, launched in 2018:

White/Sport Royal and Black/Sport Royal—minus the towel, driver's manual, and suede brush

Four all-suede Air Jordan 18s were also released. The Suede Pack included:

Air Jordan : Campfire Orange

Air Jordan : Racer Blue
Collectability of Air Jordan 18s

Although the AJ XVIII would be the final Air Jordan that MJ would wear as an NBA player, the model wasn't an immediate success. Like other OGs in the early 2000s, retro releases drew collectors' attention. In 2003, fans got Bugs Bunny 8s, White Cement 3s, a trio of patent leather Air Jordan 1s and a host of other retros for $135 or less.

Today, the Air Jordan 18 is sought-after for the same reasons it should have been back then—it's a tribute to Michael Jordan's last moments on the court. The AJ XVIII appeals to collectors who appreciate all phases of MJ's career and by fans who love the rich design of the silhouette.

The Air Jordan 18 is proof that time is sometimes all it takes for a special sneaker to be truly appreciated. Sneakerheads looking to cap off their Air Jordan collection can't go wrong with one of the Sport Royal colorways, whether it's an OG or a Retro.
Jordans Release Dates, News and Articles
Attention all sneakerheads and basketball fans! Read all about the oldest and latest Jordan releases on the eBay Sneaker Hub. From iconic retro styles to new collaborations, you'll find everything you need to know to complete your Jordan collection.