Get Stylish Running Sneakers for Men With
New Balance 990v4
Every so often there is a shoe that completely redefines athletic shoes. The New Balance 990 was such a shoe, producing a line that has lasted for more than 30 years. First introduced in 1982 as performance running shoes, the New Balance 990v4 joined the line in January 2017.
What made the New Balance 990v4 stand out among athletic shoes?

The initial shoe design for the M990 took four years to research and design, and purportedly had Steve Jobs involved. The 990 was initially launched as both the most technologically advanced shoe New Balance had released and the most advanced running shoe on the market.

The 990 featured several new technologies aiding in how the wearer experienced running. First was the Motion Control Device, or MCD, which helps prevent overpronation. It also sported a three-layered midsole and the Superflex outsole with a carbon rubber heel pad.

The 990v4 was later released in 2016, 34 years after the 990 initially debuted on the market. This later release featured the ENCAP midsole technology, which uses EVA cushioning with a polyurethane rim for support. It also has a reflective N-logo for additional safety while running in low-light environments.

This new v4 also featured a dual-density foam collar making it more comfortable than the 990v3 released in 2012. The 990v4 became coveted performances shoes because of their comfort, performance, and durability.
Are the 990v4 performance shoes or lifestyle shoes?
The M990 was originally released as a performance shoe, being technologically advanced for the time they were released. The cushioning in the running shoes as they evolved not only helped support better performance but also all-day wear.
The suede uppers were also different from the typical synthetic mesh uppers of most running sneakers for men. While the colorways and overall designs are simple, they were still elegant enough for casual wear.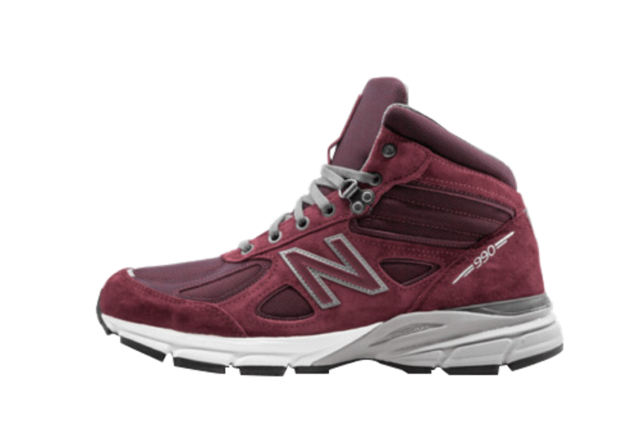 Were there special editions of the 990v4?

New Balance took the M990 shoe beyond the simple running shoe it started out with. The v4 was adapted into a number of variations and special editions that each became widely popular.

For those looking for a more rugged shoe, New Balance also released the 990v4 as mid-height boots. They included a reinforced Cordura base and heavy-duty lug outsoles. They were also offered in several colorways providing style options.

If you are looking for retro style athletic shoes, New Balance released the "Made in 1982" in April 2018. These featured the original design, with "Est 1982" embossed just below the ankle. There were only 1,500 of this model released, making them an exceptional find if you can locate one.

New Balance 990V4 - Rugged shoes

New Balance 990V4 - All-black smooth leather

To wrap up the two-year reign of the 990v4, New Balance released the "Final Edition." This edition had two colorway options, a black and gray with nubuck leather, and an all-black smooth leather. These were released in December 2018 before the 990v5 was released in 2019.

Collaborations are always fun, and the New Balance x Marvel Black Panther did not disappoint. These were stylish black uppers with debossed tribal details and metallic silver accents. They were exclusively sold at Jimmy Jazz or on the New Balance website.

L.L. Bean joined a collaboration to combine the function of the 990v4 with the style expected from L.L. Bean. It has a brown leather and mesh upper with the L.L. Bean heritage hunting and fishing design on a removable insole.

mita sneakers teamed up with New Balance to release a special version of the 990v4 in August 2018 called the Bouncing Frog. This edition features a tonal green colorway with white and gray accents. It was sold through mita sneakers and other select retailers.
New Balance 990v4 vs Nike Air Max 97 Plus
| | New Balance 990v4 | Nike Air Max 97 Plus |
| --- | --- | --- |
| Fit | True to size | True to size |
| Closures | Laces | Laces |
| Available Colors | 50 | 18 |
How comfortable are the New Balance 994v4?
The New Balance 994v4 was lauded for its comfort for both running and all-day wear. It runs true to size, though some collaborations recommend getting a half size larger. See the manufacturer's site for details.
Content provided for informational purposes only. eBay is not affiliated with or endorsed by New Balance, Nike, L.L. Bean, mita sneakers, Marvel, or Jimmy Jazz.