New Balance 992 Sneakers for Men Offer Comfort and Style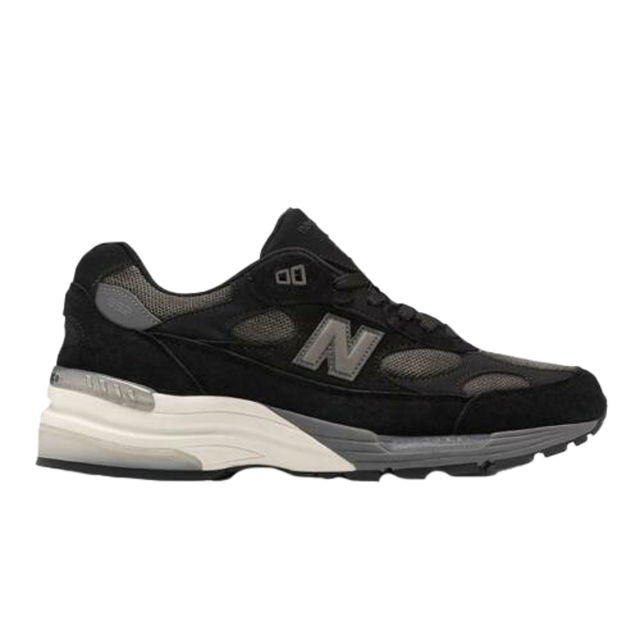 In 2006, New Balance wanted to release a comfortable, stylish running shoe to celebrate their 100th anniversary. The logical choice was to continue the 990 line, which started with the New Balance 990 in 1982. When the 992 was released, it was just as popular as its predecessor but offered more support and comfort.
Are New Balance 992 sneakers for men good for running?

The New Balance 990 shoe line was designed to be the perfect running shoe, and the 992 is no exception. These shoes feature a New Balance ABZORB midsole and heel, which help to reduce the jarring effects of impact. The pig suede and mesh upper parts of the shoe are stylish and strong, and they help to support and cushion the foot. They're designed to hold the shoe firmly in place, and the shoe won't crumple or fold around the toes or ankle.

A thick sole with deep grips also helps to provide traction over a variety of terrain surfaces, so these are suitable for running on pavement or adventuring over trails.
Will New Balance 992 sneakers for men fit true to size?
New Balance shoes were originally available in a wide range of widths, including regular, wide, and narrow, so it's often easy for people to find a shoe that fits them perfectly. For this reason, you can usually purchase your exact shoe size.
That said, New Balance shoes are designed to be comfortable, so these pig suede shoes do tend to be a bit roomy. For a more snug fit, go down a half size. This will also help to ensure that the shoes stay firmly in place while running.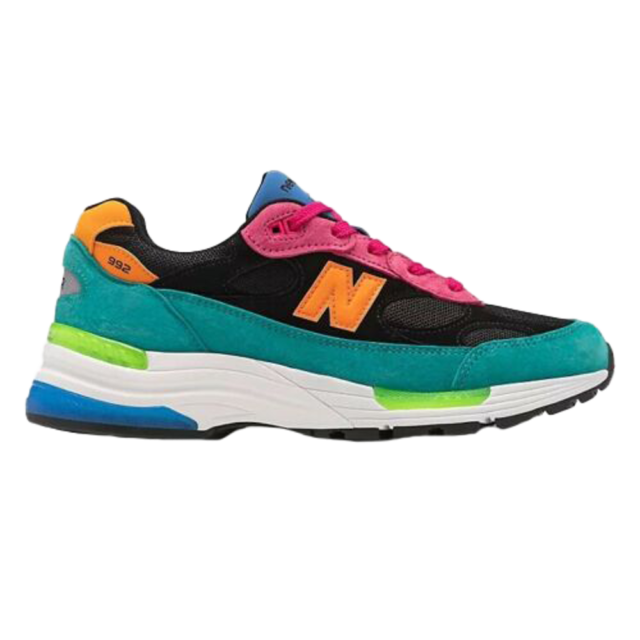 Are New Balance 992 sneakers for men comfortable?

New Balance 992 sneakers aren't only for running, they're also the suitable, comfortable casual walking shoes or daily wear sneakers. Some people might recognize these sneakers as Steve Jobs shoes because he often wore them while speaking since they're so comfortable to stand in.

Most of the comfort in the shoe comes from the ABZORB midsole and heel cushioning. The shoe's mesh construction also makes it breathable, allowing for plenty of airflow. In addition, the inside of the shoe is lined in soft material to help reduce chafing.
What colors are New Balance 992 sneakers for men available in?
Shoe enthusiasts will immediately recognize the gray shades of the classic New Balance 992 sneakers, but the shoes are available in a wide range of colors. Anyone looking for multi-color sneakers is covered, as the shoes can be found in yellow, black, and gray, orange, red, and black, pink, teal, orange, and black.
Color blocks in varying shades of gray remain the most popular New Balance 992 option, but these men's fashion sneakers are also available in color blocks of varying shades of blue, brown, and green.
New Balance 992 vs. New Balance 880v10 :
| | New Balance 992 | New Balance 880v10 |
| --- | --- | --- |
| Fit | A little big | A little small |
| Generations | 3 | 10 |
| Closures | Laces | Laces |
| Available Colors | 4 | 8 |
Content provided for informational purposes only. eBay is not affiliated with or endorsed by New Balance.