The Under Armour Curry 4 Carries on Curry's Fabulous Shoe Legacy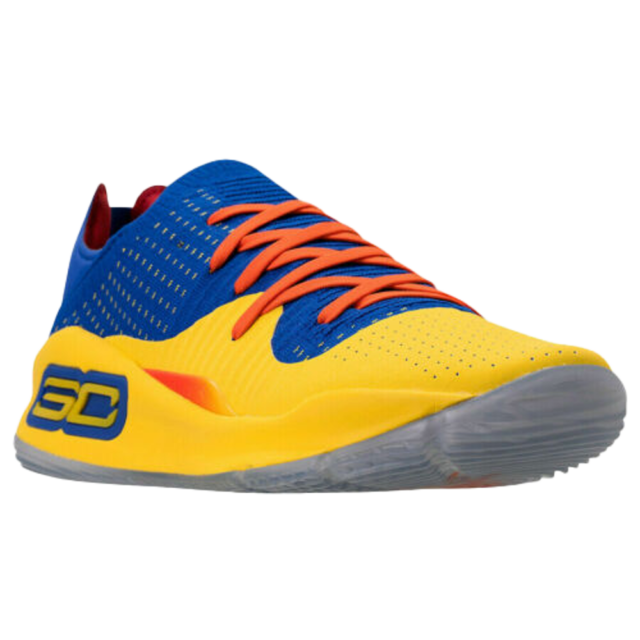 Steph Curry has made the most of his basketball collaboration with Under Armour, creating everything from signature lines of shoes to clothing and shoe lines for men, women, and children. Curry began his successful collaboration with Under Armour after he left Nike during the 2013 NBA offseason. One of Curry's biggest standout lines with Under Armour is his signature shoe line. Every shoe in the line is developed to handle Curry's specific style of play, and he has a say in every shoe that's produced. The Curry 4 is the fourth in the line.
What colorways are available with the Curry 4s?

There are many different Under Armour Curry 4 colorways available, making it easy for you to find the one that fits your team's colors or the one that works best with your favorite outfits.

The Under Armour Curry 4 Flushed Pink is a blush rose-colored shoe that was released to celebrate Valentine's Day 2018. The color was chosen to reflect Curry's love for his wife, Ayesha. The red upper sits on top of a white midsole.

The Under Armour Curry 4 More Dubs was created in honor of the fans who support the Golden State Warriors. It has a white upper that sits on top of a gradient blue midsole.
What style of shoes are the Under Armour Curry 4s?
These NBA player basketball shoes are stylish and suitbale for on and off the court wear. Players use them because of all the features that make gameplay easier, while non-players use them because they look good and feel comfortable. They have a stretchable high collar that helps make them comfortable ankle support basketball shoes. The design style is considered minimalist, and any accents and elements on the shoes are references to Curry's personal life, like his family's birthdays or their initials. The lateral side of the shoe has "SC/30" branding. You can also find Curry's initials on the inner collar. The Curry 4 Low edition is perfect for people looking for low-top basketball shoes.
Do the Curry 4s on-court
basketball shoes have lots of traction?
All of the previous Curry models came with herringbone patterns on the soles since that pattern has been proven to provide traction. The Curry 4s are the first Steph Curry basketball sneakers to not feature the herringbone pattern. They come with a spiral pattern instead, and the switch hasn't diminished the amount of traction the Curry 4s get. The outsoles grip the court really well, and they simply need to be wiped with a damp cloth if they get dusty. This will help revive any lost traction or slipperiness caused by dust.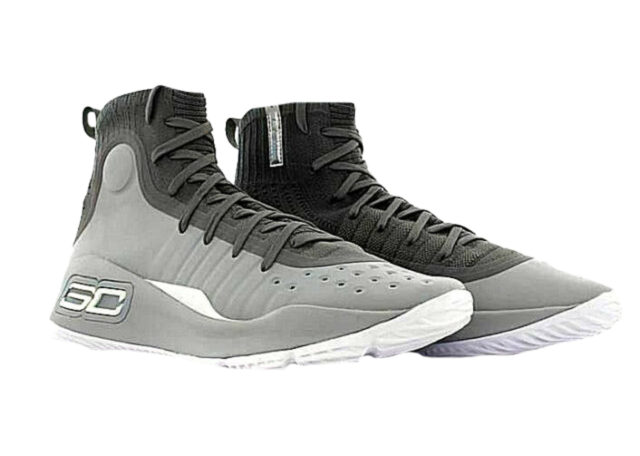 What materials are used to make the Under Armour Curry 4s?
The Curry 4's upper is made out of a modern knit fabric that breaks in really easily, allowing the player to bend and flex the foot as needed. This material is different from the Threadborne material that was used in previous models of the Curry line, but that hasn't taken away from the shoe's performance. There is a synthetic overlay that sits on top of the knit fabric that helps reinforce the shoe, protecting it from rough court play. The synthetic reacts like leather, bending, and moving around like natural material.
How do the Curry 4s ensure lockdown?
Lockdown is extremely important in basketball shoes because it helps ensure that shoes stay comfortably locked onto the feet, and the player feels that the shoes are part of him instead of separate from him. This shoe comes with a knit inner sleeve-sock that locks in the forefoot and ankle.
Under Armour Curry 4 vs. Under Armour Curry 3
| | Under Armour Curry 4 | Under Armour Curry 3 |
| --- | --- | --- |
| Closures | Laces | Laces |
| Traction Pattern | Spirals | Herringbone |
| Available Colors | Multiple | Multiple |
Do these shoes provide a lot of cushioning?
Curry has always made a point of working with Under Armour to make Curry shoes that provided court feel as well as cushioning. Under Armour's proprietary version of EVA foam provides a healthy level of cushioning for players who put tons of pressure on their feet. In spite of the foam, the shoe still provides a court feel while protecting the feet from impact. The shoe comes with a full-length, Pebax speed plate that provides the midfoot rigidity and lateral containment that makes it possible for players to achieve strong push-offs and plenty of responsive return. The final result is a shoe that holds the shoe in a comfortable situation without making the foot feel too tight.
Content provided for informational purposes only. eBay is not affiliated with or endorsed by Under Armour or the NBA.