A Detailed Look at the adidas Yeezy Boost 700 MNVN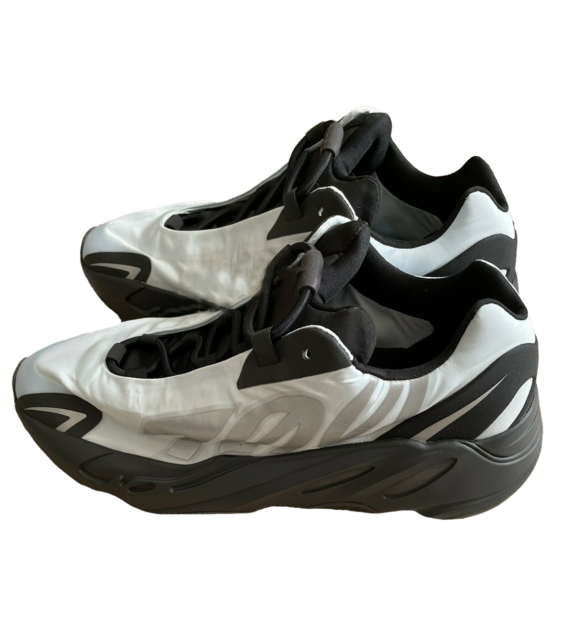 One of Kanye's famous chunky collections, the Yeezy Boost 700 MNVN, comes with a familiar shape from the original Yeezy Boost 700 but takes on a more advanced futuristic material. The pair gives a minimalistic clean aesthetic and will pair with most casual items in your closet. This sneaker also comes in different silhouettes, showcasing other bold and sleek colorways. The Yeezy Boost 700 MNVN is a favorite for many sneakerheads.
Key features of the Yeezy Boost 700 MNVN
The adidas Yeezy Boost 700 MNVN comes with a lightweight polyester upper with no-sew overlays ensuring flexibility and extra comfort. With the emission of sewn overlays, the pair gives off a streamlined, advanced look. It also features tonal eyelets and a no-tie bungee lace system that ensures a secure fit with easy slip-on and off. On the side panel, you find a 700 reflective branding and other reflective accents that give the sneaker a bright flair.
The upper sits on a full-length Boost midsole from adidas, which provides the best foot cushioning and a polyurethane midsole for added comfort and durability. The adidas Yeezy Boost 700 MNVN completes its look with a rubber herringbone outsole for increased traction and excellent shock absorption.
The Yeezy Boost 700 MNVN colorways
The official colorways of the Yeezy Boost 700 include the Blue Tint. Blue tint features light blue and black color scheme throughout. Another colorway is the Yeezy Boost 700 MNVN Orange, featuring orange and black color schemes. Additionally, the sneaker features a Phosphor and Bright Cyan, an addition to Kanye's vibrant color collection. If you prefer toned-down colors, the Triple Black and Bone colorways are other available options.
Materials used to craft Yeezy Boost 700 MNVN
The upper of this shoe is made up of polyester or nylon material. These materials offer benefits like flexibility, durability, and a lightweight feel. The fabrics are also breathable to ensure you stay comfortable during the hot seasons. Underneath, the sole consists of rubber materials. Rubber ensures durability and shock absorption properties. It also provides a good grip on surfaces.
Yeezy Release Dates, News and Articles
Stay up-to-date on the latest Yeezy releases, news and guides on the eBay Sneakers Hub. From highly sought-after drops to insider information on the Yeezy 500s iconic design, you'll find everything you need to know to elevate your sneaker game.