Discover the adidas YEEZY 700 V3 Azael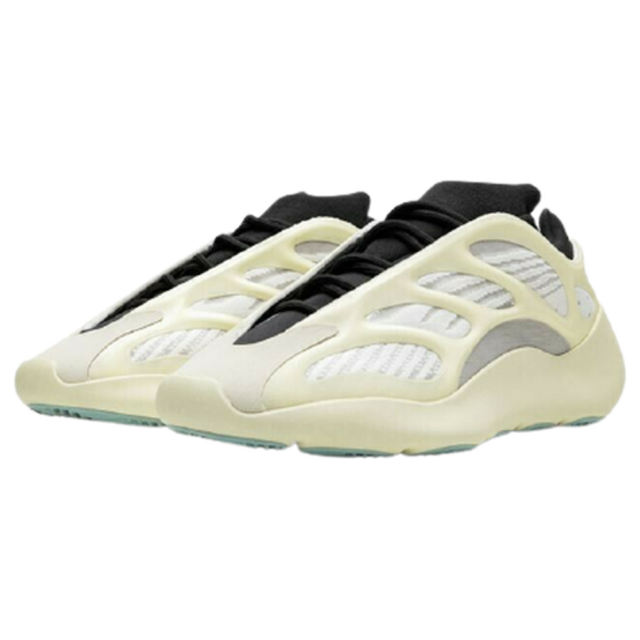 Released in December 2019, the YEEZY 700 V3 Azael is the third in the four-shoe YEEZY 700 lineup. This version marks a significant departure from the 700 V2 in terms of design, materials, and performance. With its futuristic silhouette, this shoe has a bold, aggressive style.
About the YEEZY Azael colorway

The Azael YEEZY 700 V3 is light and bright, with uppers made with gray and white stripes. The striking outer cage looks pale yellow in natural light. The black bootie lining creates a strong contrast, and the light blue outsoles add a subtle pop of color with each step.
Performance features of the YEEZY 700 V3 Azael
Made with a bootie-style inner layer, this shoe wraps around your feet and creates a secure, supportive feeling. One of the most important performance elements of the YEEZY 700 V3 is the overlay. It adds structure and helps protect the breathable mesh fabric. Traditional rope laces make it easy to tighten or loosen the fit.
This version of the YEEZY 700 is unique in that it's the only model that doesn't use adidas Boost technology. Instead, it features a more traditional PU/EVA midsole. The outsole of the V3 continues in the YEEZY 700 tradition with its traction-boosting herringbone pattern.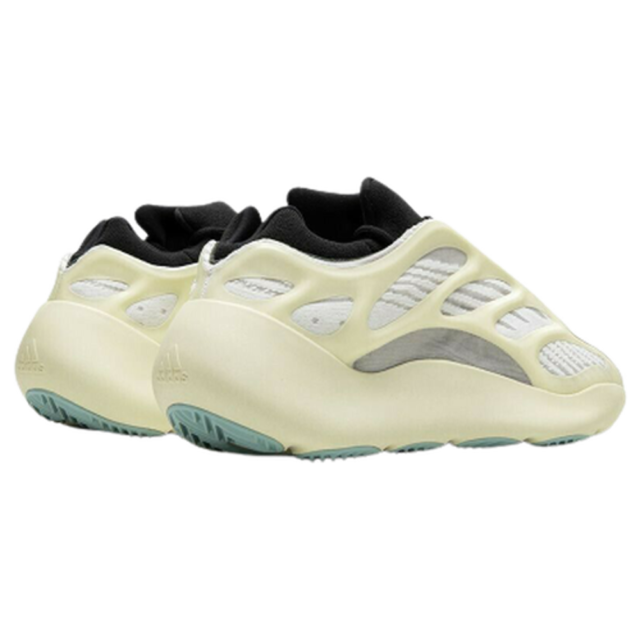 YEEZY 700 V3 Azael materials
The third version of the YEEZY 700 shoes features monofilament engineered mesh uppers. An RPU cage lies over the top, offering peeks of the mesh below. In low light, the cage glows in the dark with a striking green color. The midsoles feature PU and EVA midsoles paired with rubber outsoles.