Buy adidas Yeezy Powerphase for Elevated Style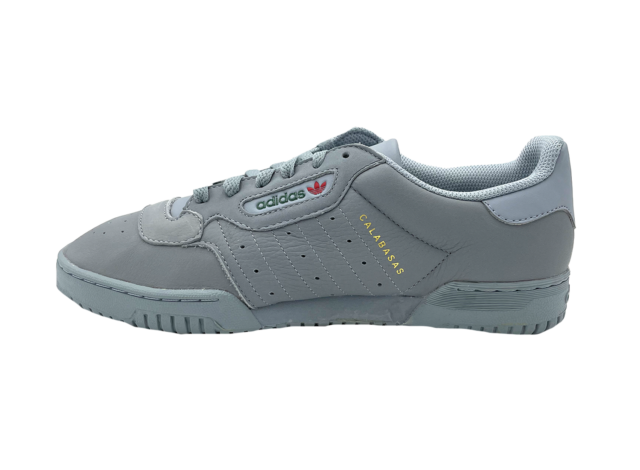 Also known by the name Calabasas, the Yeezy x adidas Powerphase collection features a silhouette similar to those of classic adidas sneakers, and the colorways featured are all a throwback to the OG adidas pallets. Kanye West helped design the style with inspiration from his childhood, when the classic low top sneakers and aerobic video tapes were popular. The first versions of the shoe dropped in 2017 and sent fans tweeting about them for months.
Features of the adidas Yeezy Powerphase Sneakers
The first three colorways — White, Grey, and Core Black — of the Yeezy Powerphase kicks include distinctive adidas and Yeezy branding. The original adidas name and logo are featured on the eyestay areas, and the Calabasas name is featured on the outer side of the upper in gold foil lettering. Some of the colorways released later exclude the Calabasas name, though adidas re-released the collection with the name added, again, in a later line named the Yeezy-inspired Powerphase collection. On all models, dotted punctures show on the sides of the upper inside a square stitched area, and thinly engraved lines slice through the sole.
Official colorways of the Yeezy Powerphase Calabasas
The adidas Yeezy Powerphase Calabasas White and adidas Yeezy Powerphase Clear Brown are among some of the earthy-toned colorways of the shoe, and some Calabasas in Core Black and Grey were released to give variety to the line. However, most of the colorways focus on neutral palettes, including Quiet Brown, Quiet Grey, and Simple Brown.
The materials of the Yeezy Powerphase adidas collection
The first Yeezy Powerphase adidas that dropped included an upper constructed of luxe leather. Later versions also came out in premium suede. All models in the Calabasas collection include a durable rubber sole fitted with no-slip technology.
Yeezy Release Dates, News and Articles
Stay up-to-date on the latest Yeezy releases, news and guides on the eBay Sneakers Hub. From highly sought-after drops to insider information on the Yeezy 500s iconic design, you'll find everything you need to know to elevate your sneaker game.