Promotional flyers can help publicize your business and items to your customers. Create free promotional flyers that you can print and distribute to promote your eBay Store as well as individual items in your Store. This is available to all Store sellers.
How to use promotional flyers
Include flyers in your shipments to buyers to advertise your Store and give buyers your Store URL. This will better enable them to come back to your Store the next time they shop.

Highlight new or interesting items in your Store.

Promote sales or special deals.

Inform buyers of your return policy or feedback policy when shipping their item.

Remind repeat buyers of available items that they may soon need.

If you have a retail store, print and post a flyer letting buyers know they can also conveniently shop from home at your eBay Store.
To create or edit your Store promotional flyer:
Click the My eBay button at the top of any eBay page.

Login to eBay with your username and password.

Click the "Marketing Tools" link in the left-hand navigation.

Click the "Promotional Flyer" link in the left-hand navigation.

Review the default settings on the Promotional Flyer page, which includes various features that you can use to customize the appearance and content of the flyer.

To make any changes to these defaults, click the "Change" link.
By default, the flyer will print on one 8.5" by 11" sheet of paper. Changing the layout or choosing a different page border might make it longer, but you can return to the default settings by clicking the "Restore defaults" link at the bottom of the page.
Whenever you return to create or edit a flyer, the settings on the Promotional Flyer page will be the same ones that you saved the last time you made changes on this page.
Note: You can only create one type of flyer each time.
Browser settings (if the flyer doesn't print out properly, adjusting these settings may help).
To disable the footer/header:
Go to your browser's File menu.

Delete content that appears in Header and Footer text fields.
To print background colours and images:
Go to your browser's Tools menu.

Select the "Print background colours and images" check box.
Store listing frame
You can display a special version of your Store's listing frame that includes any of the following: Store name, Store URL, Store logo, Username, and Store description. These options will be taken from your current eBay Store settings. Your Store's colours will always be used in the flyer's header.
Page border
Including a page border to complement the header will make your promotional flyer look more professional. eBay will automatically select a border that includes your Store's colours. You may also choose to use a predesigned theme. Both options are free.
Custom message
Include a personal message to your subscribers. You may include eBay Store HTML tags and eBay-hosted pictures. The default message in your promotional flyer reads: "Thank you for your purchase! Please visit my eBay Store for more great items and friendly, reliable customer service." You may change this to create a unique message for your buyers. In addition you can insert eBay Store HTML tags and eBay-hosted pictures to make the message even more unique.
Item showcase
To highlight specific items in your promotional flyer using large colour pictures, use the item showcase option.
You can choose up to four items—either manually or automatically based on criteria that you specify—to appear in the showcase section. The flyer's default settings are automatic selection and horizontal layout. When your listings end, they will be replaced automatically so that the flyer always shows active listings when you print it.
Here's an example of a promotional flyer with pictures and item information (horizontal layout):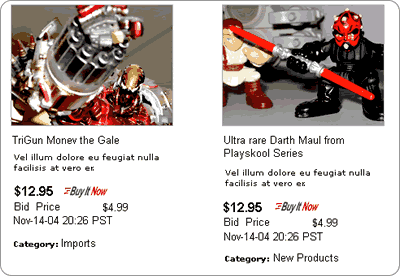 Item list
To show buyers a larger set of listings in your promotional flyer use the item list option. Items can be presented in either List view or Gallery view (this is similar to how eBay shows search results when you search for an item).
The flyer will not include the item list by default; however, you may choose to display up to six listings. The item list is built automatically based on the criteria that you selected in your preferences.
Here's an example of how the item list (list view) will look to potential buyers: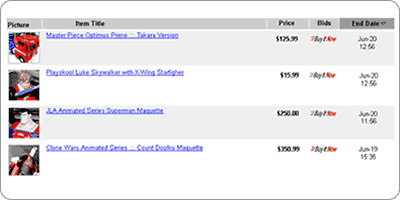 Promotion boxes
Include special promotional displays that you've created for your Store. If you have created promotion boxes, the active promotion boxes will appear in the pull-down menu, but the default will appear as None. You can place your active promotion boxes to the left and/or right side of your promotional flyer.
Note: The item showcase promotion box is not available.
These flexible, customizable displays can be used for a variety of purposes, such as highlighting featured items, announcing specials, or providing alternative ways for shoppers to browse your Store. You can create promotion boxes by clicking the "Store promotion boxes" link on the "Manage Your Store" page in My eBay.
Here's an example of how promotion boxes will look to potential buyers: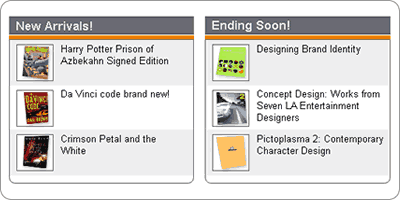 Additional information
You may include other important information about your business such as return policy, payment instructions, and payment methods accepted. This information will be taken from your saved settings in the Sell Your Item form.
Preview flyer
When you're finished making changes to your promotional flyer, click the Preview Flyer button. The preview page shows a preview of the promotional flyer. From here you can take a number of actions:
To print and save the promotional flyer, click the Save Settings and Print Flyer button. This saves your settings and opens a browser pop-up window where you can print the flyer.

If the flyer does not fit on one printed page, or you want to make changes, click the "Edit content" link to remove or add content.

To save your promotional flyer without printing it, click the "Save Settings" link. You will be notified that your settings have been changed.

If you do not want to save the settings, click the "Cancel" link.
Change layout
To change the placement of a section within the flyer, click the "Change layout" link. The Change Layout page appears where you can view layout options for the flyer by clicking the arrow buttons in the section headers. Clicking the up or down arrows changes the order of the sections. To preview your changes, click the Preview Flyer button.
Here's an example of section headers with the change layout arrows: