Using the Inventory View
The Inventory View in Selling Manager Pro helps you manage the products you sell on eBay including tracking listing status, managing inventory quantity, and managing the listing templates associated with each product.
From the Inventory View you can: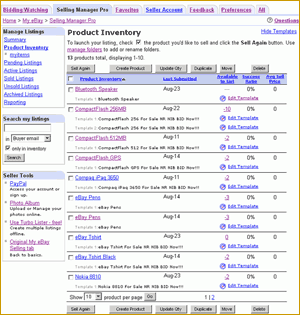 Click image to view larger version
Viewing inventory statistics and status
The Inventory View columns show the following:
Product Inventory - Name of the product and associated listing templates you have created.

Folder - Name of the product folder

Available to List - How much of each product quantity is available to list.

Success Ratio - The ratio of Sold Items to the total number of listings for that product (for more information, see Updating Product Details )

Avg Selling Price - Average selling price for each of your products.

Last Submitted - When a listing for each of your products was last submitted.
You can:
Use the search listings feature to locate a specific product by product name, part number, and item name (as entered in the listing template).

Use the customize view feature to sort, set the number of records displayed per page.

Have only the products display by clicking the "Hide/Show Templates" link.

View products that are low or out of stock by clicking on the "Low Stock" or Out of Stock link.