To create an email for your email marketing campaign:
Go to the "Manage My Store" page in My eBay and click the "Email Marketing" link in the left-hand navigation area.

On the "Email Marketing" page, click the Create Email button.
The "Create Email" page includes many features that you can use to create the content of your email messages and to specify who will receive them.
Recipients
Choose recipients for the email by selecting one or more of your mailing lists.

To get an idea of how many emails will be sent, each mailing list is shown with the number of current subscribers. Some buyers may be subscribed to more than one mailing list, so if you select more than one, the total number of recipients may be lower than the total number of subscribers to those lists. eBay will only send one email per subscriber, regardless of how many mailing lists a subscriber belongs to.

If you have sent an email to one of your mailing lists within the past 7 days, its checkbox will appear inactive and you won't be able to select it. After 7 days, that checkbox will become active again, and you can select it for a future mailing.

If you want to refine the recipient list further, click the "Show advanced options" link. The page will refresh with options on limiting your recipient list by purchase history ("Number of purchases"), subscription history ("Length of Subscription"), and previous email activity, such as only "people who have received and opened your email in the past."


Note: To keep buyers interested and to protect your relationship with them, you should make sure that the content of an email message is appropriate for the mailing list. If the body of an email and the subject name do not match, buyers may get confused and feel that you sent them a message they didn't ask for-which could make them decide to unsubscribe from the list.
Create a subject for your email. On the resulting email message, your subject will appear after the words: "eBay Seller Email:" in the email's "Subject" line.
In the same way that you can include your Store listing in all of your eBay listings, you can also choose to include your email. The header will appear at the top of your email message and include your Store logo, Store name, and links to featured categories and Store pages. If you choose this option, the header will appear in your email whether you have turned it on for your listings or not.

To make changes to your listing header, go to "Manage My Store" in My eBay and click the "Listing Header" link in the left-hand navigation area.
Include a custom message to your subscribers. You may include up to 96k of content, including eBay Store HTML tags and eBay-hosted pictures.
Content not permitted in the personal message includes:
offers to sell items off eBay

telephone numbers or email addresses

links or image references to items not located on an eBay site

more than 100 eBay HTML tags

JavaScript or other active scripting
If you insert viruses or other malicious content in your message, it will not be delivered. Its status will become "Failed (virus threat)".
To feature specific items in your email using large pictures, use the item showcase option. You can choose items either manually or automatically (based on criteria that you specify). Here's how your picture and item information will look (in a horizontal layout) to potential buyers.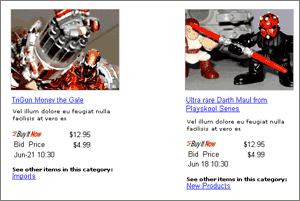 The item list allows you to promote items in a standard list or gallery view (this is similar to how eBay shows search results when you search for an item). You can choose up to 50 items to be displayed. The items are selected automatically based on criteria you specify. Here's how the item list (in list view) will look to potential buyers.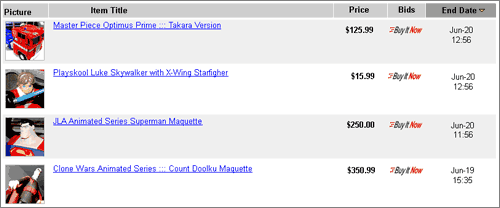 When you're finished creating email, click the Create and Preview Email button. The preview page shows the total number of recipients and any associated charges, along with a preview of the email message.
If you have exceeded your monthly allocation of free email, you will receive a flag with a message, and the total amount that will be charged to your account when you click Send Email button
Note: eBay includes in the email a marketplace safety message, instructions for unsubscribing, and specific text to comply with federal email regulations, including your mailing address.
Once you've checked the preview of your email, click the Send Email button. Your email message will be processed for sending. It may take up to 4 hours for your message to be delivered to buyers. You will also receive a free copy of your email once it is delivered to all of your recipients.
You can check the status of an email by going to the "Emails" page. While an email is being processed, the status will be displayed as "Sending". When it has been distributed to the recipients, the status will change to "Sent." If your email is blocked because of a potential virus in the content, the status will change to "Failed (virus threat)," and the email will not be delivered to any of the recipients.
If you want to save a draft of your email instead of sending it immediately, click the "Save draft" link near the bottom of the "Create" or "Preview" pages. You can access the draft later by going to the "Emails" page and clicking the "Edit" link. A saved draft will remain in your list of emails for up to six months.
If you created email in the past that was particularly effective or you want to avoid starting from scratch every time, click on the "Duplicate" link on either the "Sent Email" page or "View Email" page. All of the details from your past email will be pre-filled on the "Create Email" page for you to edit. If any previously selected listings have ended since the original email was created, they will no longer be available, but all other settings (recipients, subject, and your personal message) will be duplicated.