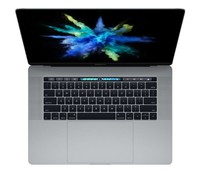 Hi you have conflicting information. Is this an i7 with a 2.8 processing speed or a 1.1 processing speed i3?
3 answers
Answered by a seller
Nov 9, 2017
MPTR2LL/A = Notebook Operating SystemApple OS X 10.12 Sierra First Seen On Google ShoppingJune 2017 Processor / Chipset CPUIntel Core i7 (7th Gen) 2.8 GHz Max Turbo Speed3.8 GHz Number of CoresQuad-Core CacheL3 - 6 MB 64-bit ComputingYes FeaturesIntel Turbo Boost Technology 2.0 Memory RAM16 GB (provided memory is soldered) TechnologyLPDDR3 SDRAM Speed2133 MHz Storage Main Storage256 GB flash storage Display Type15.4" - IPS LCD Backlight TechnologyLED backlight Resolution2880 x 1800 (WQXGA+) WidescreenYes FeaturesWide Color Gamut, 220 ppi Audio & Video Multi-GPU Configuration1 single GPU card / integrated GPU Graphics ProcessorAMD Radeon Pro 555 / Intel HD Graphics 630 - 2 GB GDDR5 SDRAM CameraYes - 720p SoundStereo speakers, three microphones Input TypeKeyboard, Force Touch trackpad, Touch Bar BacklightYes Keyboard LayoutEnglish FeaturesPressure sensitivity, multi-touch touchpad, Multi-Touch Gesture Recognition, ambient light sensor, force click, Touch ID sensor Communications Wireless802.11a/b/g/n/ac, Bluetooth 4.2 Battery TechnologyLithium polymer Capacity76 Wh Run TimeUp to 10 hours Battery Run TimeWeb browsing over Wi-Fi: up to 10 hours Video playback: up to 10 hours Standby time: up to 30 days AC Adapter InputAC 120/230 V (50/60 Hz) Output87 Watt Connections & Expansion Interfaces4 x USB-C/Thunderbolt 3 Headphone output Software Software IncludedDrivers & Utilities, Apple QuickTime, Apple iTunes, Apple Mac OS X Mail, Apple Mac OS X Chess, Apple iMovie, Apple DVD Player, Apple Safari, Apple GarageBand, Apple Dashboard, Photo Booth, Apple Time Machine, Apple Mac App Store, Apple FaceTime, Apple Automator, Apple Launchpad, Apple Mission Control, Apple Preview, Apple Calculator, Apple Dictionary, Apple Image Capture, Apple Stickies, Apple TextEdit, Apple System Preferences, Maps, Reminders, Contacts, Notes, Calendar, Apple AirDrop, Siri, Notification Center, Messages, Dictation, iCloud, Game Center, Apple AirPlay, Apple Font Book, Apple iBooks, Apple Keynote, Apple Pages, Apple Numbers Miscellaneous ColorSpace gray Case MaterialAluminum Included AccessoriesPower adapter Cables IncludedUSB-C charge cable LocalizationEnglish / United States Dimensions & Weight Dimensions (WxDxH)13.8 in x 9.5 in x 0.6 in Weight4.03 lbs Environmental Standards ENERGY STAR CertifiedYes Manufacturer Warranty Service & SupportLimited warranty - 1 year Technical support - phone consulting - 90 days Environmental Parameters Min Operating Temperature50 °F Max Operating Temperature95 °F Humidity Range Operating0 - 90% (non-condensing) Universal Product Identifiers BrandApple Part NumberMPTR2LL/A GTIN00190198373557
Answered by a seller
Nov 9, 2017
It's an i7
Answered by a seller
Nov 9, 2017
Hi, its an i7 with a 2.8 processing speed. The eBay product information in incorrect.