Item specifics
Make your listings easier to find by matching buyers' most frequently searched terms.
What are item specifics?
Item specifics are descriptive keywords that tell a buyer about your item. They may include brand, size, length, width, height, type, colour, or style, and vary depending on what you're selling.

Together with product identifiers, item specifics are the most important way to help buyers find what they're looking for. Buyers use item specifics to filter their search results, and your item will only appear in those filtered search results if you've added the matching item specific. The more item specifics you complete, the better eBay can match your item to what a buyer is looking for.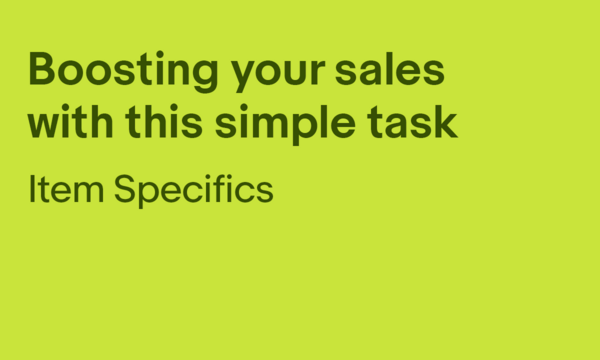 Benefits of item specifics
Item specifics provide you with a number of benefits, including:

Improve the visibility of your listings in search results

Increase your chances of being found on eBay, Google Shopping, and external search results

Increase the chances of buyers finding your listings when they filter search results, especially on mobile devices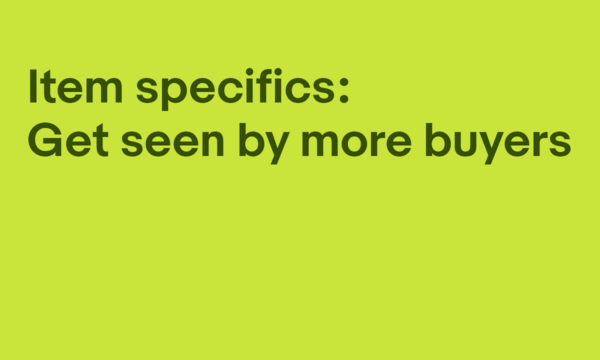 Item specifics requirements and recommendations
eBay uses certain labels to indicate which specifics will help your items get found more easily by buyers:  
Required
Certain item specifics are critical in identifying your items and making sure your buyers can shop with confidence. You'll need to fill in all Required item specifics for any new or revised listing. See the latest item specifics requirements for your categories.
Required Soon
We periodically add new Required item specifics based on buyers' search trends. If your listings have item specifics that will be Required Soon, you'll see a note as you list that you can hover over to learn when they will become required. You can also check the latest item specifics requirements to learn about what's upcoming for the categories you regularly list in. 
Recommended
We recommend certain item specifics based on buyer demand data and popular searches. Add as many of these as you can to help buyers find your listings. 
Additional
These item specifics help buyers know more about your item. Completing these could potentially save you from having to answer questions about your item, and help you make a sale.
When creating a listing, these labels will help you identify the most important item specifics to fill out first.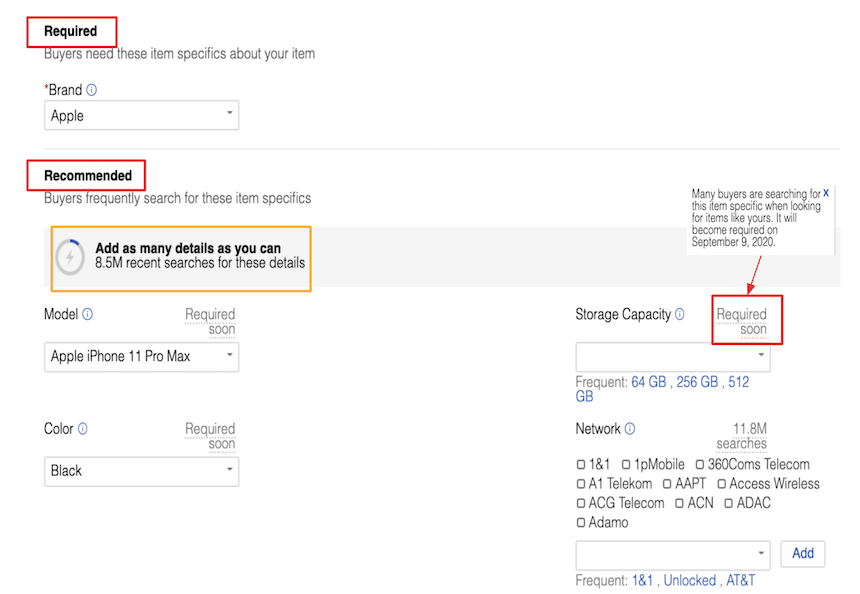 Tip: The lightning bolt meter (outlined in yellow) will fill up to indicate how complete your item specifics are.
Features for finding missing item specifics
There are a number of features to assist you in adding missing item specifics to your listings.

View missing item specifics in Seller Hub tasks
On your Overview page in Seller Hub, a new task in the Tasks module will let you know when you have listings that are missing required item specifics. Simply click on the task and you'll be taken to those listings.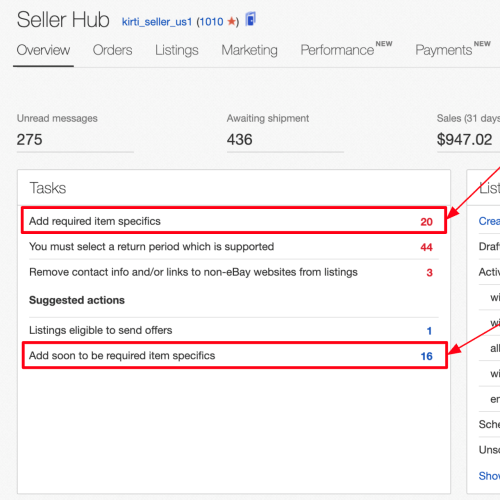 Item specifics Quick Filters
If any of your listings are missing Required, Required Soon, or Recommended item specifics, you'll see a corresponding Quick Filter on your Seller Hub Active Listings page.

Add item specifics from Active Listings
From your Active Listings page, you can select multiple listings and click "Add item specifics."  This will load all of your selected listings into a pop-up window where you can cycle through each listing and add any missing item specifics.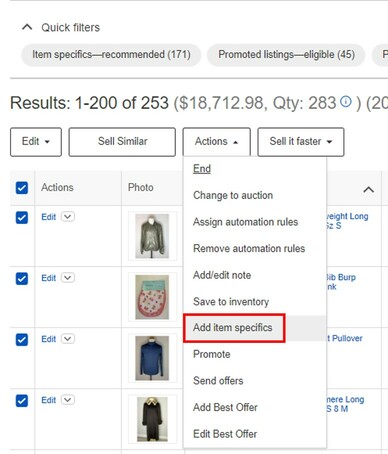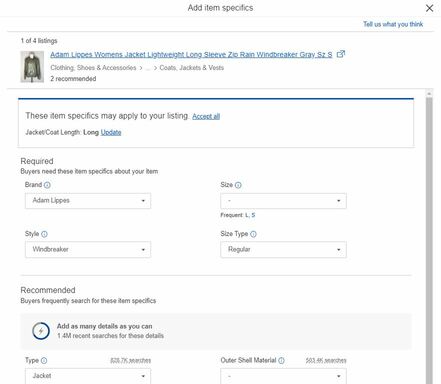 Required Soon feature
When you list or revise an item, you'll see "Required soon" above any item specifics that have an upcoming enforcement date. Seller Hub will show you more information as well as the dates the item specific will become mandatory for your current listing.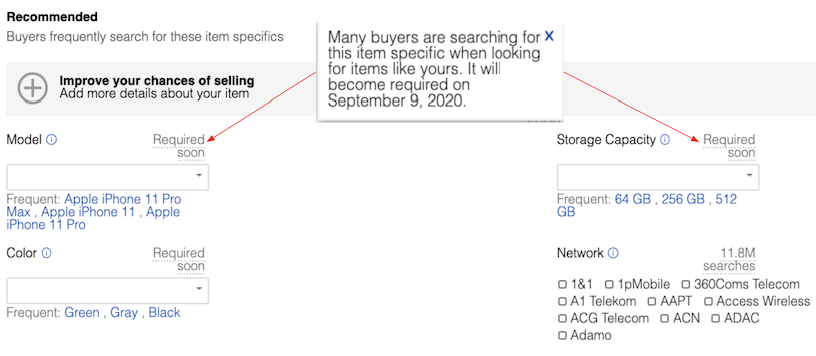 Item specifics rankings
As you list, you'll see guidance on what item specifics your buyers are searching for, based on the number of searches over the past 30 days. Completing these item specifics will help increase your listing's visibility, especially when buyers use the left-hand navigation filters.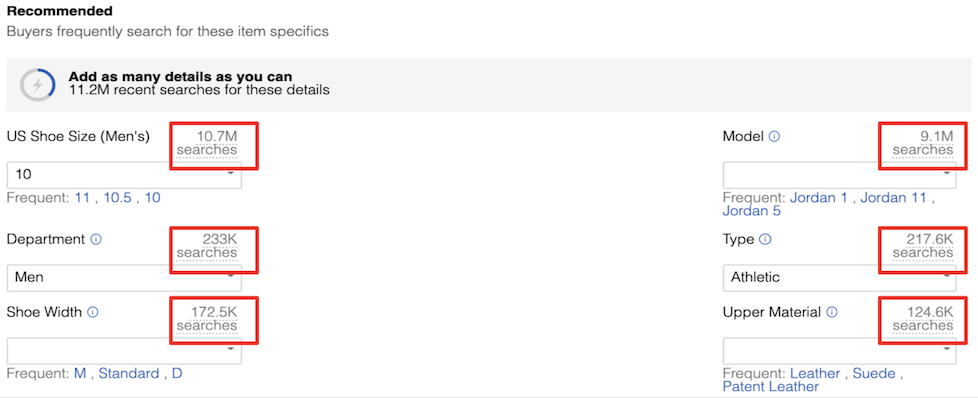 Bulk edit tools to update missing item specifics
If you have a number of listings with missing item specifics, bulk edit tools can help you save time.  
Download/Upload file
Available on the Seller Hub Active Listings page, this tool allows you to download an Excel file containing all of your active listings that are missing Required, Required Soon, or Recommended item specifics.
Follow the instructions in the Excel file to edit your item specifics, then upload the file to your Active Listings page to apply changes across multiple listings. Learn more about how to use Download/Upload file.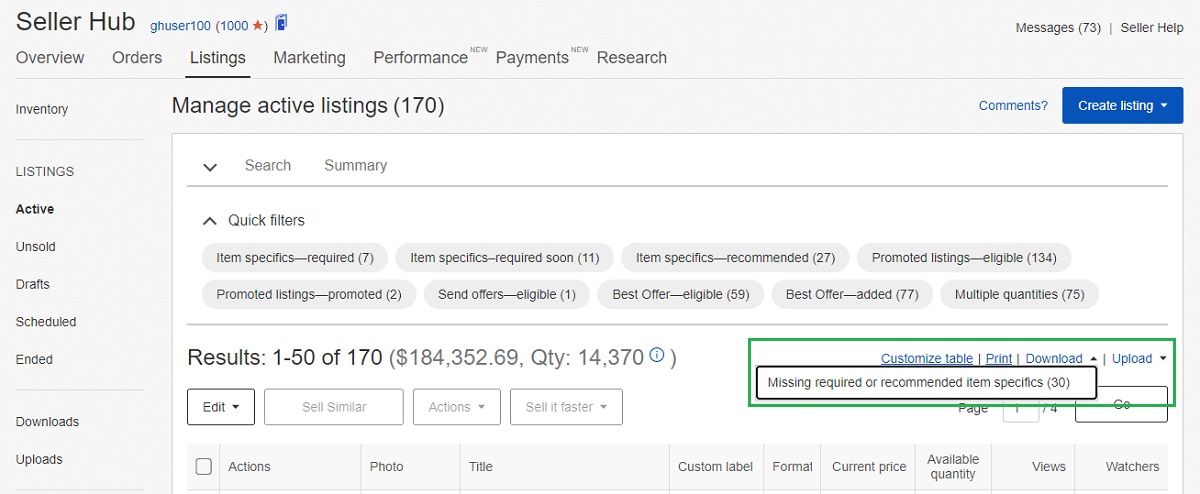 Optiseller Aspect Finder+
Optiseller Aspect Finder+ is a third-party tool that can help you quickly identify and update listings that are missing item specifics.†
Listings with multiple variations
Adding variations to your listings lets you use item specifics to group closely related items under a single listing.
For example, if you're selling shoes, you can create a single listing with multiple variations for different sizes.
Items grouped under a single listing need to be closely related, and you can select from a list of variation details (such as size, color, or width) to describe how they are related.
Changes to variation details
As part of our item specifics updates, certain variation details will no longer be valid. This change helps clarify what variations work best as a single listing, and what items are more likely to get noticed as separate listings.
Listings impacted by this change will display the following error message when you edit them: "This attribute is not valid for this variation. Add a valid attribute."
If you see this message, first try to update your listing. Look for an existing variation detail that more accurately describes how the items are related. For example, a listing for a kitchen faucet may have previously used "Type" to describe the variations "Stainless steel," "Rubbed Bronze," and "Chrome." This could be updated to "Finish."
If you can't find a relevant existing variation detail, you'll need to create separate listings. For example, a listing for tools may have used "Type" to describe variations for "Hammer," "Wrench," and "Screwdriver." In this case, the items are not closely related enough to fall under a single listing. The variation "Type" will need to be removed and the items re-listed separately.
Making these changes helps your listings with multiple variations show up in the right searches, and encourages buyers to feel more confident with their purchase.
Personalize with eBay
Personalizing items for your buyers is now easier with our new item specific feature. This feature allows you to easily communicate to the buyer what information you will need from them to personalize an item. When you add this feature to your listings, buyers can add their personalized text on the View Item page in certain categories, which can then be sent to you using the "message to seller" option. Buyers can now also filter for personalized listings when they search for items.
To set up your personalized listings, you'll need to take the following action:
Add the "Personalize" item specific to your relevant listings

Provide personalization instructions for your customers

Turn on the "message to seller" option
If you've previously used the personalization item specific, make sure you complete step 2 and 3 above to add this experience to your listings.
This option is currently available in certain categories in the following areas:
Home & Garden

Clothing & Accessories

Jewelry
eBay for business
Choose to make your listings personalized.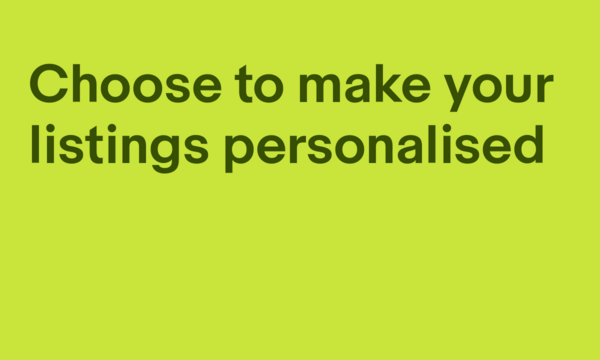 * Data collected between July-Sep 2018.
** Report comparing average sales value per listing for listings with item specifics "dress length" and "style" vs those without from December 2017-July 2018.
† Additional charges apply.
Feedback