eBay Labels can save you time and money
eBay Labels is a new on-platform label printing solution that helps you easily manage your shipping label needs on eBay without having to create individual accounts with shipping couriers. Printing shipping labels on eBay is as easy as a few simple steps.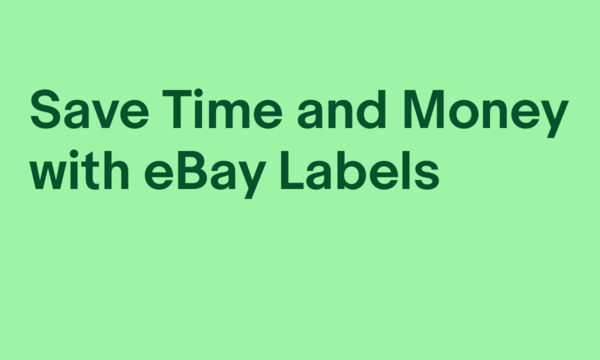 The benefits of eBay Labels

Convenience
Address information and shipment details are automatically pre-populated when you print labels on eBay. Additionally, the tracking number is automatically added to your eBay orders once you have printed your labels.

Efficiency
Save time on generating shipping labels for multiple orders by printing labels in bulk. Just select all your orders in My eBay or Seller Hub, and click "Print shipping label".

Savings
Print your shipping labels in the comfort of your home and save on your shipping costs compared to the retail rates you'd pay at a post office.
Choose your preferred carrier
On eBay Label, you have more than one shipping option. Compare rates from Canada Post and FedEx® and easily find the shipping services that best meet your needs.

Learn more about carriers on eBay Labels.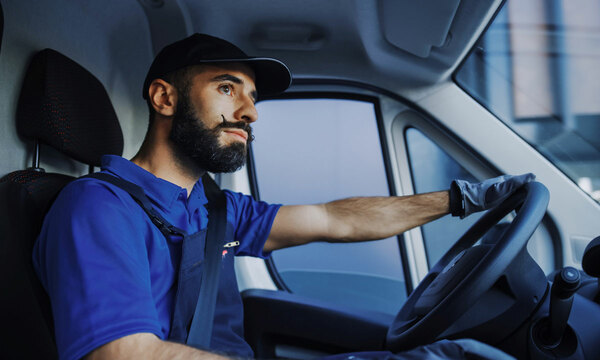 Using eBay Labels. It's easy.
After you sell an item, go to the "Sold" section in My eBay. If you use Seller Hub, go to "Awaiting shipment" under the Orders tab.
Enter the shipment's weight and dimensions
Select a carrier and shipping method
Click "Purchase and print label"
Place the label on your package and ship
For more details, click here.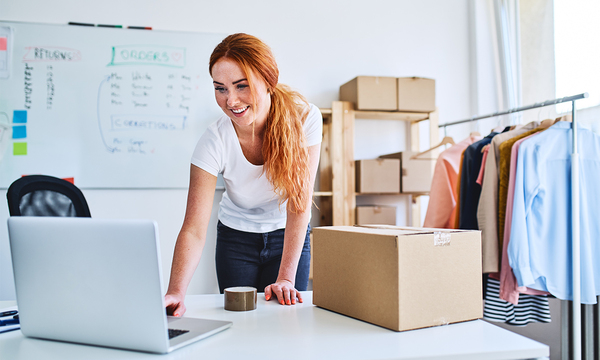 Features designed for business sellers
Combine labels–save money
For multiple orders to the same buyer, you can use the Combine feature to add all items into the same package instead of buying multiple labels individually. eBay Labels will automatically update the weight for the label; you just have to adjust the dimensions based on your combined package size.
Multi-user account access
Delegate the fulfillment of your sold items to your employees. As a delegator, you can now enable the new "Print shipping label" permission for your delegates. This option is available on the Permissions page under your Account settings.
Address validation
To help reduce the risk of an incorrect buyer address, eBay Labels automatically validates the buyer address, and provides recommendations. You can choose to accept the recommendation or continue with the original address provided by the buyer
Multiple labels sizes
As part of the label printing preferences on eBay Labels, you can choose the label size that best fits your needs. You can either print a 4"x6" or a 8"x11". You can also preview the label size.   
International shipping made simple
No need to worry about filling out customs forms for your US or international sales. It is automatically included in your shipping label.
Share your feedback
Your comments are always welcome. Feel free to get in touch.
FAQs
What carriers are available on the new eBay Labels?
Currently, you can print labels for Canada Post and FedEx on eBay. More carriers will be available in the future.
Do I have to use eBay Labels to print labels for my orders?
No. eBay Labels provides a simple and easy way for you to print your shipping labels at a discount. It automatically pre-fills all the order details and address information; and uploads the tracking number to your eBay order. You are not required to use eBay Labels. If you choose to print your labels using another solution or purchase labels at carrier location, make sure to return to eBay and add the tracking numbers to your eBay orders so your buyers can keep track of their shipments.
What's the cost of using eBay Labels?
eBay Labels is free to use. There are no service fees for printing labels on eBay. The only thing you'd have to pay for is the cost of a label.
Can I use my own carrier accounts to print labels on eBay Labels?
No. You are not able to use your own individual carrier accounts on eBay Labels.
Can I continue to use Shippo to print labels for my eBay orders?
Yes. Shippo remains eBay Canada's official third-party shipping label solution. You have the option to continue using Shippo or use eBay Labels. You can access Shippo by clicking "Go to Shippo" at the top right corner of the page on eBay Labels; or access the Shippo website directly.
What shipping services are available with eBay Labels?
The following services are available:
Service type




Canada Post




FedEx



Domestic Services


Canada Post Expedited Parcel

Canada Post Regular Parcel
Canada Post Xpresspost
Canada Post Priority

FedEx Ground
Economy Express

United States


Canada Post Small Packets

Canada Post Tracked Packet

Canada Post Expedited Parcel

Canada Post Xpresspost

FedEx Ground

International Economy




Worldwide


Canada Post Small Packets
Canada Post Tracked Packet 
Canada Post International Parcel - Air
Canada Post International Parcel - Surface
Canada Post Xpresspost - International
Canada Post Priority Worldwide
Learn more about eBay shipping partners and their benefits.
What happens if the carrier of my choice is not available on eBay Labels?
If the carrier of your choice is currently not available on eBay Labels, you can use Shippo or other label platforms.
Can I print labels in bulk on eBay?
Yes. You have the option to print labels individually or in bulk. To print labels in bulk, go to the "Sold" page under "Selling" section of My eBay. Select all orders for which you want to print labels, then under Action, select "Print shipping labels". If you use Seller Hub, click on "Awaiting Shipment" under "Sold" section, then select all orders for which you want to print in bulk, then click the "Shipping Action" button and choose "Print shipping labels".
How do I pay for the labels I purchase on eBay Labels?
You can use your funds to purchase shipping labels for the items you sell. If your funds aren't sufficient to cover the full cost of a shipping label, eBay will charge the remaining balance to your on-file payment method, such as a credit card or linked bank account. To purchase labels with these funds, choose your funds under the Select how to pay section in the eBay Labels prompt. More information about purchasing and using shipping labels is available in the Help Hub.
My label didn't print properly. Can I reprint it without paying?
Yes. You can reprint your label for free.
I printed a label, but I am not going to use it. Can I void the label and get a refund?
Yes. You have up to 14 days from the time you printed a label to void it and get a refund. The cost of the label will be reflected on your monthly invoice. To void a label:
Go to My eBay and click "Shipping Labels" under Sell.
In the Actions column click "Void label".
Follow the instructions on the "Void your shipping label" page.
I don't know the exact weight or dimensions of my package. What happens if they're not accurate?
The cost of a label is determined based on the origin and the destination as well as the weight and dimensions of your package. If the package is underestimated either by weight or dimensions, the cost of the label will be adjusted after the package is inducted by a carrier. You will see this adjustment on your eBay invoice.
The amount I was charged doesn't match what was quoted on eBay Labels. Why is that?
The estimated cost provided at the time of label purchase is based on the provided package details - (weight and dimensions) as well as shipping details (origin and destination addresses). Once accepted by the carrier, the dimensions and weight are evaluated for accuracy and any differences will be communicated back to us. In  addition, shipping rates may be subject to fuel surcharges which could fluctuate daily. As such, the amount displayed in your payment history is the actual amount charged by the carrier based on the exact package details and any applicable surcharges.
Can I print labels on the mobile app?
Yes. You can print labels on desktop, in a mobile browser, or on the eBay mobile app. Make sure you have the latest version of the eBay app on your mobile device.
How do I add additional liability coverage on a label?
Under "Additional Options", you can purchase additional liability coverage for your label for up to the value of the item. The liability coverage option is a "service-specific" add-on. It is available for purchase only when the selected shipping service provides no liability coverage or less than the total item value. The maximum amount is $5,000 for domestic services and $1,000 for US and International services. For example, Canada Post Expedited Parcel offers liability coverage of up to $100. If your item was sold for less than $100, then you'd not be able to purchase additional insurance. If your item is above $100, then you'd be able to purchase additional liability coverage up to the price of your sold item.
I canceled a label I bought on eBay Labels. Can I purchase another label again?
Yes. If you're on My eBay, click on "Shipping labels" under the Selling Tab. Then click on the Actions dropdown and select "Print another label". If you're using Seller Hub, go to "Paid and shipped" under the Orders tab. Find your item, and click the downward arrow under Actions, and click "Print shipping label".
Can I opt out of eBay Labels?
No. eBay Labels is the new default label printing solution on eBay.
I just printed a label. How can I cancel it?
You can cancel a label about an hour after it was generated. This hour-long window is to ensure there is enough time for the label generation to be processed fully, so that when you submit your cancellation request the label can be found and voided. Note that this action cannot be undone--once cancelled, you'd need to print a new shipping label.
How long does it take for a label cancellation to be processed?
Once a label is successfully cancelled, it typically takes up to 14 days for the refund to be credited back into your account.
Can I use eBay Labels to print a return label for my buyer?
No. Currently, this feature is not available on eBay Labels. For now, you can only print outbound labels for your sales.
How do I change my ship-from address?
You can update your ship-from address by going to your Account Settings, and then clicking on Addresses. On this page, find "Ship from address" and click Edit. Note that to print a label on eBay.ca, your ship-from address must be in Canada.
Feedback