Multi-user account access
Increase your business efficiency by authorizing others to perform basic listing functions within your account.
What is multi-user account access?
Multi-user account access (MUAA) can help you improve your business efficiency by allowing you to grant permissions to other users so that they can access your account and perform workflows on your behalf. Your login credentials and other private information are secure and won't be shared with any users you invite through MUAA.
Benefits
Improve your productivity by delegating specific workflows to others
Gain additional support without exposing your password and critical business information to designated users
Authorized users, depending on their permissions, may also contact customer support on your behalf to resolve potential issues
Learn more about this feature in the multi-user account access FAQ.
How does multi-user account access work?
You must be opted-in to Seller Hub to allow another user access to your account. After you opt in, you can grant permissions to another user to act on your behalf from the Account permissions page under your eBay Account Settings. Note that invited users must have their own eBay account in order to accept your invitation.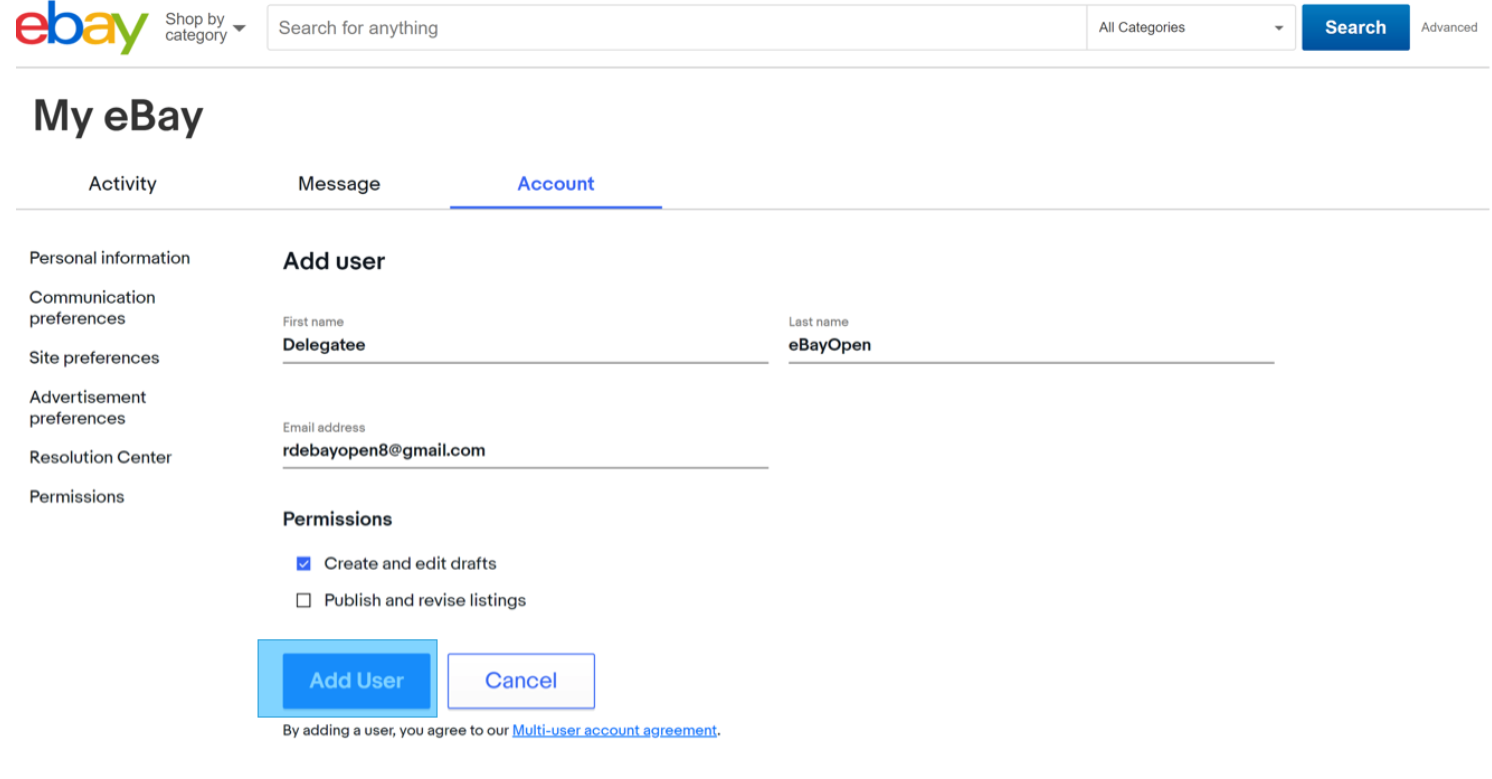 You can choose to grant an invited user any of the following selling permissions:
Create and edit listing drafts
Publish and revise listings
Research products using Terapeak 
View orders
Download order report
Add shipping tracking number
Print shipping labels
Delegating these actions is a great way to lessen your workload and save you time. Business partners will find MUAA especially useful for sharing work tasks and managing important business decisions.

Learn more about how to invite users and grant them permissions.
FAQs
Who can authorize access to other users to access and perform basic listing functions in their account?
Sellers who have opted into Seller Hub can authorize other users to perform functions on your behalf.
Who can be an authorized user?
New or existing users with a CA eBay account can be authorized users. After you accept an invitation as an authorized user, you cannot authorize access with the same account.
How many authorized users can an account owner invite?
There is no limit to the number of authorized users that can act on your behalf. We recommend adding no more than 10 authorized users to your account to ensure a manageable process.
As an authorized user, how many invitations can I accept from an account owner?
There is no limit to the number of invitations from account owners that you can accept.
As an account owner, what if the person I want to invite to act on my behalf does not have an eBay account?
Authorized users can be existing eBay members or become new eBay members when they complete the Registration flow after they accept the invitation. If the email address you invite is not associated with an eBay account, that person will be taken through the Registration flow. If the email address you invite is already associated with an eBay account, that member will be taken to the eBay sign-in page when they accept the invitation.
What if I mistype an email address in my invitation?
Invitations automatically expire after 24 hours if not accepted. If you believe the wrong person received and accepted an invitation you sent, you can revoke the invitation on your My eBay Authorized users page.
What parts of the eBay site work with multi-user account access?
As an authorized user, you can only act on behalf of an account owner in their Seller Hub.
As an authorized user, how do I switch accounts?
If you need to switch to another account as an authorized user you can select Switch account in the blue banner across the top of the page in Seller Hub. Learn more about switching accounts from Seller Hub or My eBay.
As an authorized user, can I contact eBay customer support?
If you call customer support, please let the representative know that you are using the Multi-User Account Access feature, and which account you were acting on behalf of.
Feedback