Running your business
Build your brand and business velocity with the new eBay Stores experience, Seller Hub business performance resources, and multi-user account access permissions and protections.
What you need to know
Attract more buyers and build your brand with the new eBay Stores experience
New Seller Hub research and performance resources
More multi-user account access permissions and 2-step verification
A modern Stores experience—for you and your buyers
You may have already noticed some enhancements to how you and your buyers experience Stores. With simplified designs and an upcoming dedicated Stores tab in Seller Hub, Stores are easier for your buyers to find and easier for you to maintain.
A simplified, modern Store design
Over the past year, Stores have gotten a new, simplified design that helps you engage buyers no matter what device they're using.
Stores have also expanded from desktop-only to mobile web and the eBay app. When Stores became available on the eBay app last year, sellers who migrated to the new design saw on average a 20% increase in traffic from the app.*
That increased traffic could translate to more sales.
We're continuing to update and simplify the Stores experience, to get more buyers browsing on Stores—which translates to more potential sales for you.
Manage your Store from a dedicated tab in Seller Hub
It's easier than ever to manage your Store. You can now access your store under the Marketing tab in Seller Hub. Add your logo and customize your Store—all from one easy access point.
More ways to tell your story
Your Store should reflect your unique identity and brand. We recently rolled out new ways for you to make it your own.
Upload your logo and custom banner
You can upload custom branding to your Store, including your logo and a unique banner. Adding your brand helps you make a good first impression. It also helps eBay drive traffic to your Store and build repeat business by showcasing your logo in places like your listings.
Add your story in a new About tab
As part of the Store design update, you'll see a new About tab in the coming weeks. Use this space to add a description of your brand or company and tell your business' story. Your About section will help build trust with your buyers and will let them know more about who they're shopping from.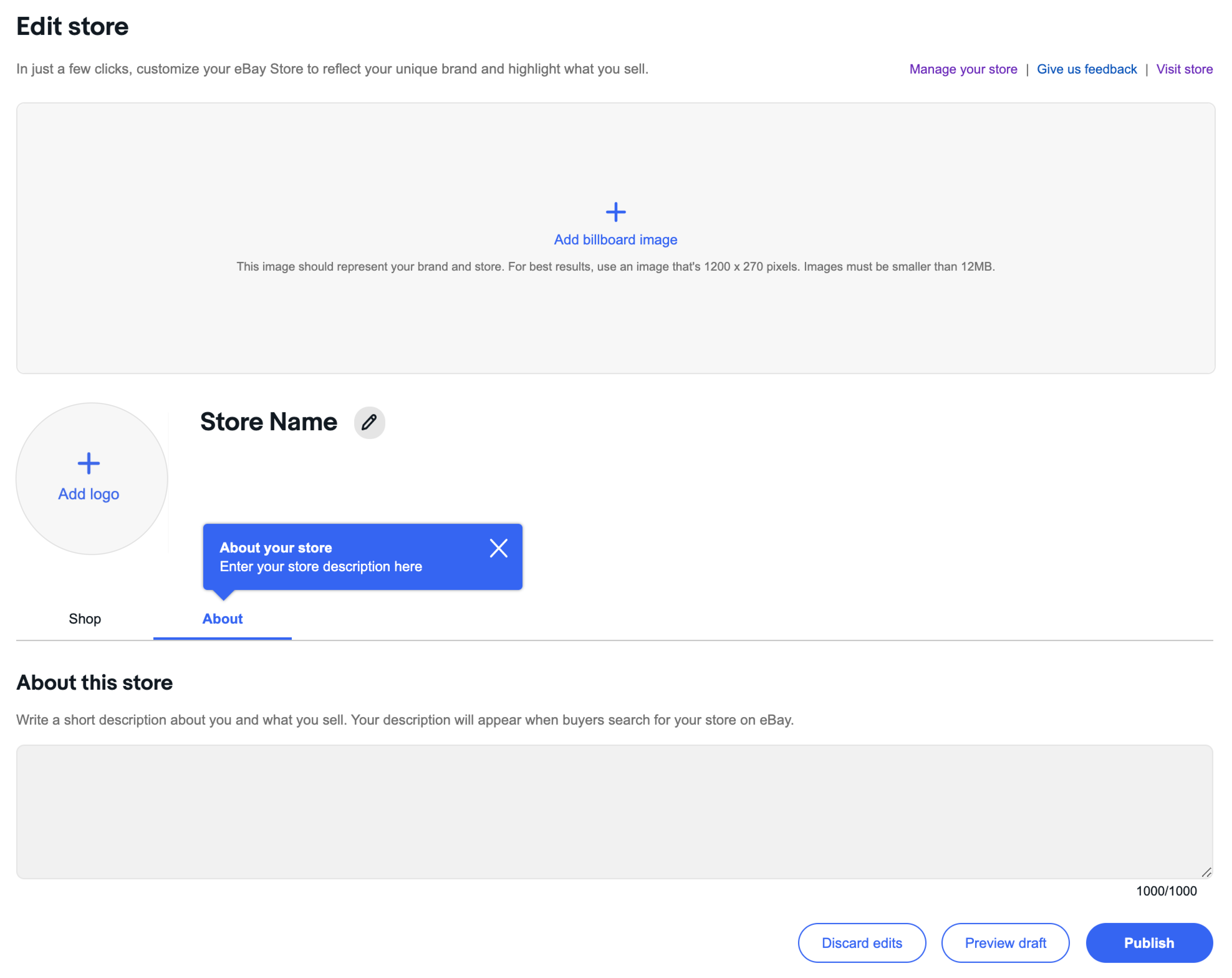 More ways to bring buyers to your Store, with less effort
More traffic to your Store can mean more potential sales. We want to set you up for success by giving you more ways to get buyers shopping on your Store.
More visibility for your Store
When you upload your custom branding, we'll display your Store link and logo on your listings. This gives buyers an easy way to find your Store. We'll also showcase some featured Stores on the Stores Hub, making them more visible and easier to find than ever.
Your Store is more likely to be featured if you complete all of the information, add logos and banners, and maintain high seller standards.
eBay Store newsletters
With eBay Store newsletters, you can create and send custom campaigns to buyers who've signed up to receive your newsletter.
Now, you have an updated Store newsletter tool that's more effective and easier to use. With this new tool, you can build modern, engaging newsletters in minutes. Just pick one of our ready-made templates, customize it to fit your brand and message, and choose how often to send it.
Learn more about eBay Store newsletters.
It's now easier for buyers to choose to get your newsletter
Buyers can already save your Store to their favorites—now, when a buyer clicks Save they can also choose to get your newsletters. The simplified, modern Store design puts this option right on your listings, making it easier than ever for buyers to choose to get your newsletter.
What's next for Stores
Stores are continually evolving to bring you more features for growing your business. You'll continue to see improvements to the features we've launched so far, as well as more exciting updates.
Over the coming weeks, you'll also see new features to improve how you engage buyers on your Store, including:
Manage your Store from a dedicated tab in Seller Hub—It will be easier than ever to manage your Store, with a dedicated Stores tab in Seller Hub. Add your logo and customize your Store—all from one easy access point
Showcase featured products—Choose what products you want to showcase. Buyers will see them in a dedicated module at the top of your Store.
Highlight your categories for easy, visual navigation—Choose which categories to draw attention to, and give your buyers a quick, visual way to navigate what you offer
Marketing banners—Create clickable marketing banners to grab buyers' attention and showcase products, sales, or promotions
Set expectations with customized policy blocks—Let buyers know what to expect when it comes to things like shipping, returns, or warranty services
Newsletter sign-up from your About tab—In the coming weeks, a new button will appear in your Store's About tab to encourage buyers to sign up for your newsletters
If you don't already have a Store subscription, learn more about the benefits.
*Based on data surveyed from sellers across all eBay sites in December 2020.
**Based on data surveyed from sellers on eBay.com between January and November 2020.
†Based on a 360-day look forward for US buyer transactions occurring in January 2020.
New research and performance resources in Seller Hub
You've been asking us for more data to help build and track your business on eBay. To give you more of what you need, we've made some updates to the tools and reports on the Performance and Research tabs in Seller Hub. Use these new features to get an insight into how you're doing compared to your competitors and how you can optimize your listings.
New in the Seller Hub Performance Tab
Listing Quality Report
Earlier this year, we launched the Listing Quality Report. This report is a downloadable document that provides you with analysis at listing and category level. It suggests specific actions you can take to optimize your listings and categories. You can use the report to help boost your views, impressions, and sales. It was designed with input from the seller community to make sure it matches the needs of your business.
To keep improving the report, we've made some updates.
This month, the Listing Quality Report will be available to download in three formats:
A PDF "one-page summary"
An Excel "full report" with one tab per category
A CSV "raw data" file, to be exported for further analysis
In the past, you could see the analysis of your 10 categories with the most live listings. You'll now be in control of which categories will show up in the report. You'll also have the option to keep the existing analysis, using the top 10 categories with the most live listings.
To learn about how to read the report and what you can expect to find in it, visit the Seller Center.
Sales Report
There are new enhancements to the Sales report in the Performance tab. You can now filter sales by "Year to Date," look back at sales data for up to 1 year, and filter by sales via Promoted Listings or offers.
You'll soon also be able to see:
Sales insights. Sales by category and by listing format (auction vs. fixed price).
Buyer insights. You'll be able to see new vs. repeat buyers and total buyers,
New search functions. You'll be able to search by item ID or title.
New in the Seller Hub Research Tab
Terapeak Sourcing Insights
You can use Terapeak Sourcing Insights to see the top 20 searched categories on eBay, based on sales from the previous 30 days. Find this under a new tab called "Top Categories."
Terapeak Product Research
You'll notice that Terapeak Product Research has a new look and feel. The search box and data range options make it easier for you to look for the research you need. You can also filter the details.
Updates to multi-user account access and 2-step verification
New permissions for multi-user account access
Multi-user account access (MUAA) gives you full control over what your account users can do on your eBay account and what they're able to see.
You now have new permissions that let your account users manage refunds, requests, and disputes. For example: processing returns or managing open cases.
This change won't affect existing permissions that let your account users:
Create and edit drafts
Publish and revise listings
Research products using Terapeak (subscription required)
View orders
Download order reports
Add postage tracking
Print postage labels
A further update will let your account users access the Manage scheduled listings, Manage unsold listings, and Manage ended listings pages, and take actions based on their permissions. The MUAA update will launch during the next few months.
User-designated, trusted devices for 2-step verification-enabled accounts
Two-step verification helps protect your eBay account. Once you've switched on 2-step verification, each time you sign in to your account you'll be able to confirm your identity via an eBay app push notification or by entering a code we'll send you via SMS.
Now, user-designated, trusted devices for 2-step verification-enabled accounts will make your account even more secure and make multiple devices much easier to manage. This new feature means your account users will be able to register devices, such as laptops and mobile phones, as trusted devices.
Once 2-step verification is active, users can log in with a new device. They will then have the option to designate that device as trusted. This trusted device check will replace the 2-step verification login process for that specific device.
You can manage existing trusted devices by going to My eBay > Account > Sign in and Security, and select "devices you trust."
Feedback